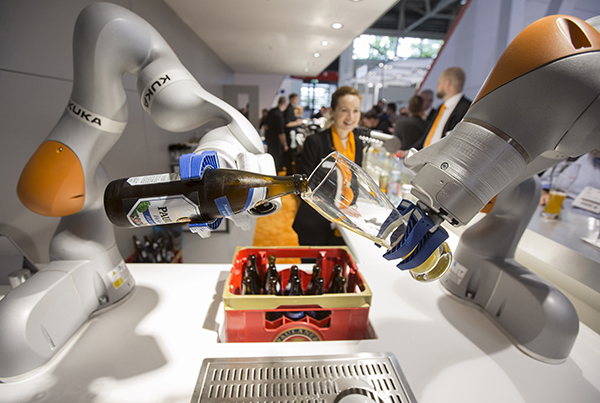 A Kuka industrial robotic arm pours a glass of beer during a display on the Kuka AG exhibition stand during the Automatica trade fair in Munich, Germany. [Photo/Agencies]

Chinese investor to help expand its business on mainland
Midea Group Co, China's biggest home appliance maker, has signed a deal to make it the biggest shareholder in German industrial robotics group Kuka AG, the Chinese company announced on Wednesday.
Both parties agreed to Midea's 115 euros ($127) a share bid which valued the German group at about 4.6 billion euros, according the statement.
The investment agreement outlined Midea's commitments to Kuka, following the launch of the voluntary public tender offer for all shares of Kuka, based in Augsburg, Germany, which was formally announced mid-June.
Kuka is in confidential talks about potential new investors but has so far only received a takeover offer from Midea, Chief Executive Till Reuter said on Wednesday.
The investment will make Midea become the biggest shareholder of the German company, ahead of Voith GmbH, a maker of industrial equipment, if there is an acceptance rate of at least 30 percent of the shares of Kuka.
Midea Chairman Paul Fang said the investment would create long-term values for both companies.
"A broadly diversified shareholder base is welcomed, as we believe that the continued commitment of all shareholders will benefit Kuka as a whole," he said.
Fang said the offer needed a positive assessment by the management board and supervisory board of Kuka.
"We are looking forward to working with all shareholders to help Kuka further expand its leading position in the robotics, automation and logistics sectors, particularly in the Chinese market, to deliver accelerated growth," Fang said.
Kuka has attached great importance to the Chinese market for future sustainable growth, as China is continuously seeking ways to automate its factories to offset the rising labor and production costs.
In addition to its market share of 35 percent in North America and 46 percent in Europe, Kuka currently has a 19 percent market share in Asia and other regions, according to sources familiar with Midea. By 2020, Kuka said it plans sales of 1 billion euros in China.
On Tuesday, sources reported that Kuka was on the brink of agreeing the Midea offer, if it received assurances for a long-term commitment to its existing headquarters, factories and jobs.
The statement on Wednesday said that by signing the agreement, Midea was showing its full commitment on Kuka's sites and workforce and had expressly undertaken not to cause any change to the current global workforce, or effect site closures or relocation.