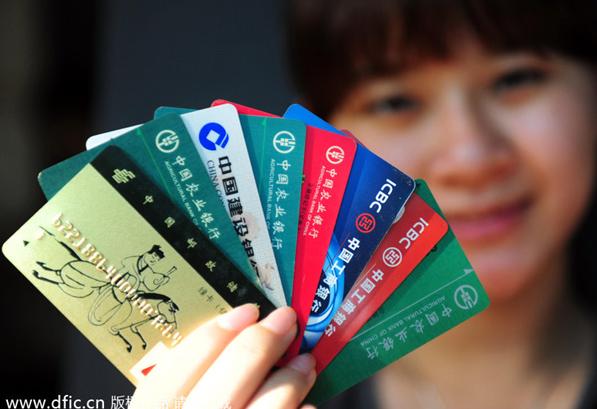 A Chinese woman shows credit cards and other bank cards in Qionghai city, south Chinas Hainan province, April 14 2012. [Photo/IC]
China's central bank will allow banks to offer up to 30 percent discount on credit-card lending rate, which currently stands at 0.05 percent per day, it said in a statement on its website Friday.
Effective from next year, the daily limit credit card holders can withdraw in cash from ATMs will increase to 10,000 yuan ($1,545) from 2,000 yuan.
The People's Bank of China (PBOC) also scrapped unified rules on up to 60 days interest-free periods and a minimum monthly payment of 10 percent of the bills, giving banks more autonomy to set the terms.
In addition, banks can decide whether and how much they will charge credit-card holders if they fail to repay on time.
Such relaxation aims to make rooms for diversified products and services, and encourage market competition, said the PBOC in the statement, adding that setting a guidance band on overdraft rate can also prevent any price war or excessive borrowing.
Credit card loans account for 75 percent of short-term consumption credit in China, according to the central bank. By the end of 2015, the country had seen the issuance of 390 million credit cards, with their owners owed an outstanding 3.1 trillion yuan.
The new rules come as the world's second-largest economy shifts toward consumption and service driven.
China's consumption expanded 10.7 percent year-on-year in the first quarter against a 6.7 percent GDP growth to 15.9 trillion yuan, data by the National Bureau of Statistics showed.