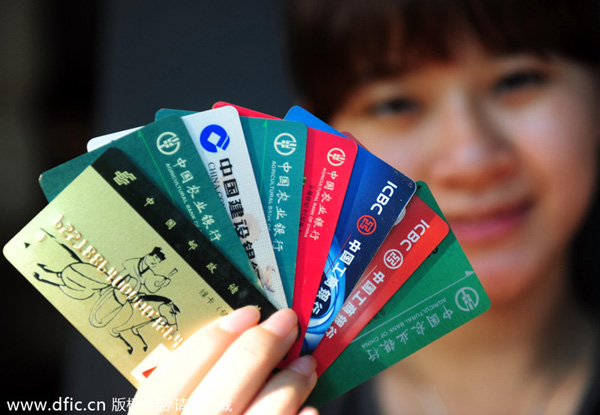 A Chinese woman shows credit cards and other bank cards in Qionghai city, South China's Hainan province, April 14, 2012. [Photo/IC]
BEIJING - Chinese people used more credit cards last year, fresh evidence that the nation's traditionally frugal residents are looking for credit cards for everyday purchases.
Chinese banks issued a total number of 455 million credit cards by the end of 2014, up 4.38 percent from a year ago, the People's Bank of China (PBOC) said in a report released on Thursday.
These cards have an average credit limit of 12,300 yuan ($2,005), making the combined credit limit 5.6 trillion yuan in 2014, up 22.5 percent from the year before, said the PBOC, the central bank.
Chinese card holders used an average 41.69 percent of their credit limit in 2014, up 1.4 percentage points from the previous year, the report said.
The industry picture is not all rosy. Credit card issuers also witnessed a spike in delinquency last year, with a total amount of 35.76 billion yuan unpaid for more than six months by the end of 2014, up 41.97 percent from a year earlier.
Metropolitan residents tend to own more credit cards, with Beijing and Shanghai topping the list. Residents in these two cities have 1.7 and 1.33 credit cards on average respectively, much higher than the national average of 0.34.