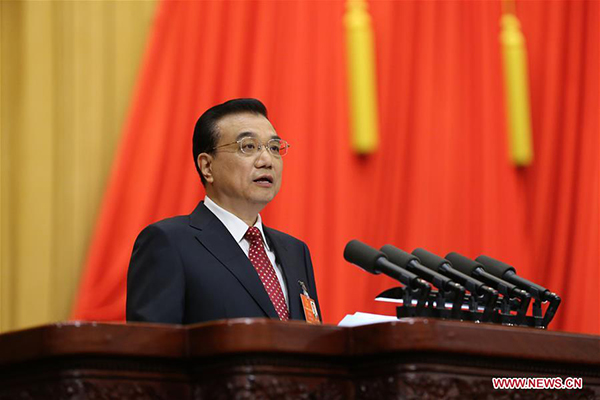 Chinese Premier Li Keqiang delivers a government work report during the opening meeting of the fourth session of the 12th National People's Congress at the Great Hall of the People in Beijing, capital of China, March 5, 2016. [Photo/Xinhua]
BEIJING - Premier Li Keqiang on Saturday expressed his confidence of realizing China's 2020 goals, while mentioning to fight "a difficult battle" in face of tougher challenges.
The government work report, delivered by Li at the opening meeting of the national legislature annual session, sets this year's economic growth target at between 6.5 and 7 percent as well as the average annual growth rate for the next five years at above 6.5 percent.
The year 2016 is the starting year of China's 13th five-year plan towards 2020 by when China vowed to complete the building of a moderately prosperous society in all respects. China aims to double the 2010 GDP and per capita personal income by 2020.
"We... become more aware of the need of uphold political integrity, keep in mind the bigger picture, follow the Communist Party of China (CPC) as the core of the Chinese leadership, act consistently with CPC Central Committee policies," Li said in his report.
Li's remarks echoed a recent article by Qiushi Journal, the CPC Central Committee flagship magazine, which said the "four consciousnesses."
Faithfulness to the core leadership of the Party is characterized by staunch loyalty to "the Communist Party of China Central Committee, [its] General Secretary Xi Jinping as well as to Party theories, guidelines, principles and policies," the journal said.
About 3,000 deputies to the National People's Congress (NPC) listened to Li's report at the opening meeting, chaired by Zhang Dejiang, chairman of the NPC Standing Committee and executive chairperson of the session's presidium, along with top Party and state leaders Xi Jinping, Yu Zhengsheng, Liu Yunshan, Wang Qishan and Zhang Gaoli.
In his report, Li called on all Chinese to "rally closer around the CPC Central Committee headed by General Secretary Xi."
Growth for five years
China is facing slower growth and trying to shift its development to a more sustainable model.
Explaining why setting the growth rate in this range, Li said, "We have taken into consideration the need to finish building a moderately prosperous society in all respects and the need to advance structural reform."
Such a growth might help ensure employment and people's welfare, he said.
Last year, China realized a GDP growth of 6.9 percent, with a total output exceeding 60 trillion yuan ($9.19 trillion), which means every percentage point of GDP growth is equivalent to 1.5 points five years before or 2.5 points ten years before.
"The larger the economy grows, the greater the difficulty of achieving growth," Li said.