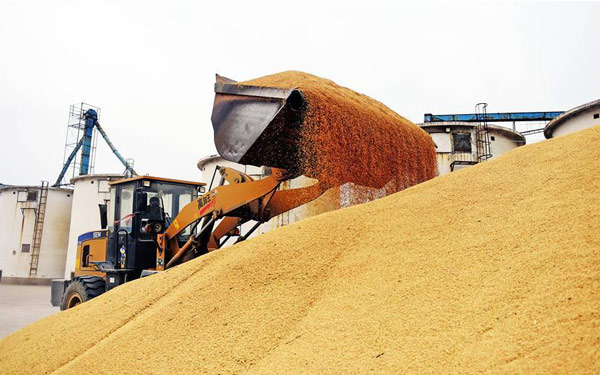 A worker collects rice at a corn processing factory in Linghai, Northeast China's Liaoning province, Nov 19, 2015.[Photo/Xinhua]
BEIJING -- For thirteen years in a row, China's "Number One Central Document" has focused on agriculture and rural issues. This year it identified supply-side reform as a way to boost agricultural modernization.
The document is the first major policy document released every year. Agriculture is a significant issue in the world's most populous nation, featuring problems including low farmer income, pollution and ineffective supply of farm produce.
"To a certain extent, supply of agricultural products, specifically, failed to meet the changing demand, while off-loading of capacity needs to be applied to some other products," said Chen Xiwen, director of the central agricultural work leading team office on Thursday.
Total grain output increased 2.4 percent year on year to 621 million tons in 2015, the 12th-straight year of growth. As a result of supply and demand imbalance, however, and price differences between domestic and foreign farming products, China's grain imports soared.
The phenomenon of high grain output, rich inventories and increasing imports means it is high time for structural reform measures in the agricultural sector.
Supply-side structural reform in agriculture was thus emphasized and the importance of innovation was also underscored in the document, which was published Wednesday. The measures aim to better provide for high-quality goods and services as well as to address problems such as overcapacity.
Production structure must meet diverse consumption demands with enterprises encouraged to "go overseas" to balance exports and imports, according to Wednesday's document.
Upholding an innovative, coordinated, green, open and shared development concept, the authorities called for faster transformation of agricultural models and vowed "marked progress" in agriculture by 2020 to ensure the society becomes moderately prosperous.
Although Chinese farmers' per capita disposable income increased 8.9 percent year on year in 2015 to 11,422 yuan ($1,743), there is still a big gap compared to urban residents.
Growth of rural income has outpaced that of urban dwellers since 2010, nonetheless, villagers only earn about a third of city residents.
The average monthly income of migrant workers in 2015 was 3,072 yuan, up 7.2 percent year on year, a growth pace even lower than the per capita disposable income. This means working in the cities has lost its competitive edge.
Last year, 168.84 million farmers left their hometown to work elsewhere, only 0.4 percent more than the previous year. A slower economy was an immediate cause of the drop.
Supply-side structural reform aims to not only improve productivity but also to realize people-first development. In this sense, the government vowed to help rural workers find employment and increase their incomes.
Chen suggested a raft of measures to prop up agriculture and rural development by pushing forward green development, promoting large-scale management of land and expanding investment, among others.
According to the document, at least 53 million hectares of high-quality farmland will be created by 2020, which will be highly productive to ensure stable yields and able to withstand floods and droughts.
Training for farmers, increased investment in technology, modernization of the seed sector and diverse business entities and models will increase the pace of change.