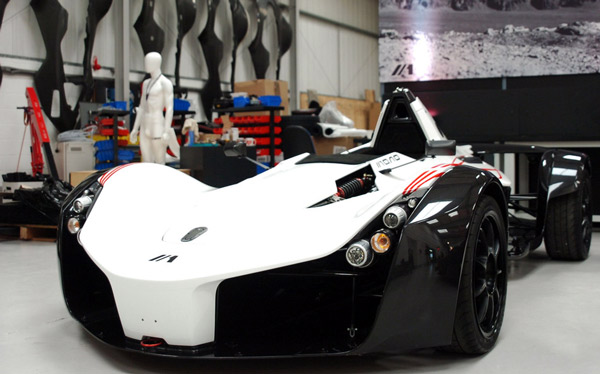 An customised car made by BAC Mono for the Christmas party of Joel Zimmerman is displayed in Liverpool, Britain, Dec 14 2014. [Photo/IC]
The world's only single-seat racing car built to run on public roads is preparing to make its debut in Chinese mainland.
Britons Neill and Ian Briggs plan to launch the 274 kilometers an hour BAC Mono, described as the ultimate road beast, in either Beijing or Shanghai in the coming months.
The two brothers are convinced the car will become the ultimate 'big boy' accessory among young cosmopolitan executives in China's big cities.
But they also hope their entry into China will attract something that has so far eluded the BAC-Mono: the first female buyer, willing to splash out at least $235,000 (plus delivery and taxes). The price can be double if buyers opt for the full range of customisation.
A few months ago the car, capable of reaching a speed of 0 to 96.5 km/h in 2.8 seconds, made its debut in Hong Kong, with the allocation of cars available all snapped up with days.
With a waiting list currently standing at 14 months, the hand-built sports racers come off a production line in Liverpool at the rate of just one a week.
Co-founder and product development director Neill Briggs, in an exclusive interview with Xinhua, described the plans of the company as it neared its launch in Chinese mainland.
"We will wait until the Spring Festival is over so we are looking at the end of March, but certainly in the coming months. At the moment we are looking at Beijing and Shanghai. Details of locations are currently being finalised.
"This is a hand-crafted car and we believe brand Britain makes it even more attractive. The main challenge we have in China is to get road-legal status.
"We currently sell our cars to a number of countries which have passed it to be driven on public roads. It is really about educating people about the car, and we hope to use agencies such as UKTI to help us. Even so, some people are happy to transport the car to racing circuits.
"This car is aimed at a niche market, as an accessory, just as a Rolex watch would be.
"Although we have described it as the ultimate formula racing car for the road, it is incredibly easy to drive. If you can drive a car, you will easily be able to handle the BAC Mono.
"It would be great if we found our first female customer in China. There are many self-made business people who would love to own this kind of car."
The company is a 'baby' of the so-called Northern Powerhouse. It has established a factory close to Liverpool John Lennon Airport with the help of Liverpool's Mayor Joe Anderson. The cars are even test driven on the airport runways (when there are no plans around).
Mayor Anderson and his team opened doors to a whole collection of suppliers and component makers, all within easy reach of the BAC factory.
It is easy to see why the two brothers are enthusiastic about the prospects for the Northern Powerhouse, aimed at rebalancing the British economy by encouraging economic growth away from the crowded south east of England.
Plans are in hand to double the output, currently just 50 cars a year, to cope with demand, with exports accounting for most sales. That will mean more jobs, and an economic boost in Liverpool.