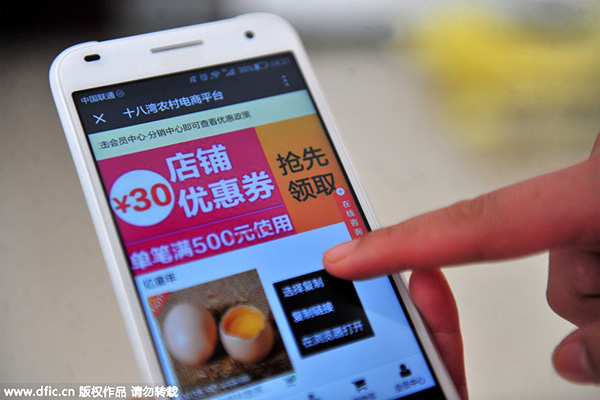 An online store of farm produce is shown, Nov 19, 2015. [Photo / IC]
Xiao Man, a human resources officer in Beijing, was on a mini shopping spree during a recent subway trip to the office.
With her eyes glued to her smartphone, the 24-year-old woman bought a skirt and an upmarket handbag within 10 minutes of receiving recommendations from her friends.
"I love shopping on my smartphone. It's like a shopping mall in my pocket. Whenever my friends share something nice, I can instantly search for it on my phone," she said.
As more than 594 million Chinese consumers such as Xiao have access to the mobile Internet, smartphones and tablets are overtaking personal computers as the most favorable avenue for e-commerce.
"In 2015, nothing has been more attention-grabbing than the 'going mobile' trend in China's e-commerce sector," said Zhao Naixun, an analyst at Beijing-based Internet consultancy Analysys International.
In the second quarter of this year, mobile transactions accounted for 50.8 percent of online sales nationwide, exceeding those made via personal computers for the first time, according to a report by iResearch Consulting Group.
"Thanks to the availability of affordable smartphones, a growing number of consumers are migrating from personal computers to mobile gadgets for online shopping," Zhao said.
Data from iResearch showed that mobile sales in the second quarter jumped by 133 percent to 443 billion yuan ($68.79 billion), dwarfing the 40 percent growth rate for the entire e-commerce sector in China.
As more rural residents have access to the mobile Internet, consulting firm Bain & Co predicted mobile transactions will account for 70 percent of China's online sales by 2020.
To catch up with the pronounced shift, e-commerce behemoth Alibaba Group Holding Ltd and its arch rival JD.com Inc are doling out handsome subsidies to lure users away from PC screens to their mobile platforms.
They offer mobile buyers better discounts for the same items sold on PCs and scramble to optimize their algorithms so that consumers can quickly find products on smartphones whose small-screens display far fewer items on a webpage.
So far, the results are not bad. On Nov 11, China's largest online shopping festival, Alibaba generated 68 percent of its jaw-dropping 91 billion yuan in transactions from mobile sales, 25 percentage points higher than a year earlier.
In the third-quarter ended Sept 30, about 52 percent of JD's transaction volumes were made on mobile smartphones and tablets.
However, it remains to be seen who will be the winner in the mobile era, given the new challenges accompanying the mobile trend.
"Alibaba dominated the e-commerce sector in the era of personal computers. But smartphones' small screens may affect advertising displays, which is one of Alibaba's major revenue sources," said Mo Daiqing, an analyst at China E-Commerce Research Center.