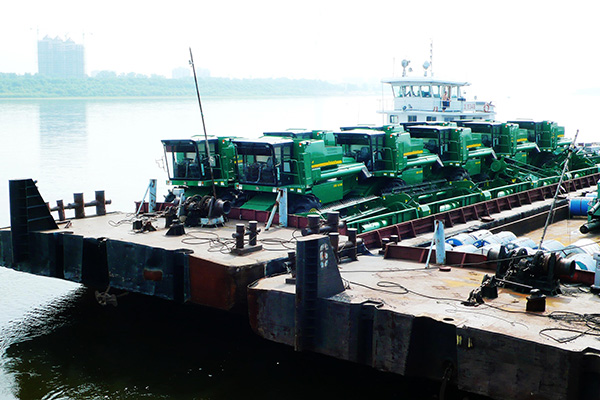 A barge loaded with 10 made-in-China combine harvesters at Heihe port, Heilongjiang province. The vehicles were sold to companies in Blagoveshchensk of Russia. [Photo provided to China Daily]
"The decline was mainly due to slowing sales of machinery to make concrete, and cranes amid the economic slowdown," Zoomlion said in a statement.
Despite squeezed profit at the core business, sales of Zoomlion's agricultural equipment jumped by 35 percent for the first half of this year, raking in 2 billion yuan in revenue.
Compared to the construction machinery industry, which is burdened with chronic overcapacity, the agricultural equipment sector has grown rapidly over the past few years.
In 2014, the market value for construction machinery hit 600 billion yuan, official data showed. During the same period, that for the farming equipment sector topped 380 billion yuan, and by 2018 it is expected to surpass 500 billion yuan.
"China's goal is to produce a large-scale, modern agricultural sector, which is efficient. This will further boost the domestic farm machinery market," Ma Wenjun, a researcher at the Chinese Academy of Social Sciences, said.
Still, the market, which has witnessed 10 percent growth rates during the past few years, is still dominated by foreign brands such as John Deere. The global corporation, which has its headquarters in the United States, manufactures agricultural, construction and forestry machinery.
In a bid to compete with the international heavyweights, Zoomlion acquired a 60 percent stake in the farm machinery maker Chery Heavy Industry Co Ltd, which is based in Wuhu in East China's Anhui province, for about 2 billion yuan last year.
This will help propel the company into a leading agricultural machinery enterprise in China, Zoomlion said in a statement, as well as beefing up its technology, increasing its sales network and management setup.
"Technological breakthroughs will be key to the farm equipment market," Zhan, chairman and CEO, said. "Through innovation and updating of machinery products, strong companies will become stronger, and smaller companies will be left out in the cold."
Overseas acquisitions are also in Zoomlion's sights as it expands into the mid-to high-end sector of the farming equipment industry.
"We are waiting for the right time and the right partner to explore the overseas market," Zhan said.
"The development of agricultural machinery is likely to follow the same route as the construction equipment industry.
"It will gradually move up the value chain, but it will be a long process," he added.
"With urbanization and overseas expansion, we will capture this golden opportunity to develop ourselves into a leading global company in the agricultural equipment market."