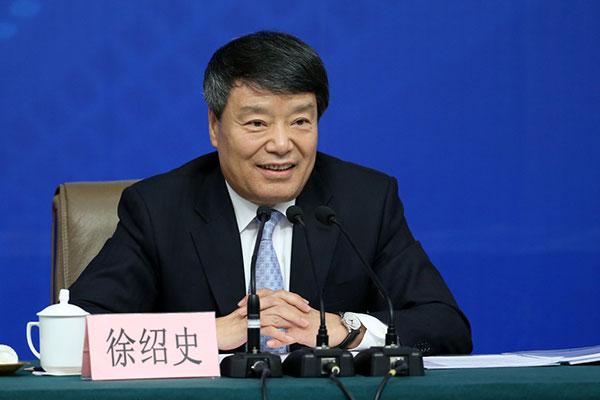 Xu Shaoshi, head of China's National Development and Reform Commission (NDRC), attends a press conference in Beijing, March 5, 2014.[Photo/IC]
Country should 'shift to industrial exports to drive growth'
China's top economic planner said on Wednesday that the country will aggressively reach out internationally to create new drivers for growth.
The goal is to boost external demand by taking advantage of China's excess manufacturing capacity, said Xu Shaoshi, head of the National Development and Reform Commission.
The country has taken "concrete steps" to promote international cooperation and has undertaken a host of projects with a total value of more than $30 billion, Xu said.
"The country wants to grasp the opportunities to promote international industrial and equipment cooperation," Xu said at the summer World Economic Forum in Dalian on Wednesday.
The country should shift from its heavy reliance on the export of consumer products and move toward equipment and industrial exports, Xu said.
"All cooperation will be built on mutual consultations and mutual benefits. China will carefully consider the major concerns of its partners," he said.
Chinese companies will be involved mainly in building plants, production lines, infrastructure and industrial parks, Xu said. Major areas for cooperation include steel, mining, shipping, railways and electricity.
Feng Kui, a researcher at the China Center for Urban Development, said international cooperation has made concrete progress and has entered a practical period.
Issues such as procedures, frameworks, project lists and financing all depend on promotion from the government side.
But companies will be major players in making breakthroughs and promoting cooperation, Feng said. "It depends on concerted efforts of both government and enterprises."
The NDRC and the Ministry of Foreign Affairs have conducted the first round of country investigations. They looked at 60 countries, of which 15 have been targeted as major partners, including Kazakhstan and many countries in Africa, South America and Asia.