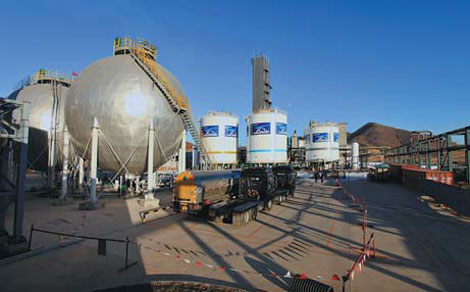 Linde-Dahua Gas Co is located in Songmudao Chemical Industrial Park. The fine chemicals industry is an important sector in Puwan New Area. [Photo provided to China Daily]
Since its founding, Puwan has cultivated industries in auto parts, marine equipment, fine chemicals and electric power equipment as well as garment and food processing.
During the first two quarters, six pillar industries produced revenue of 50.26 billion yuan, a profit of 1.35 billion yuan and contributed 2.16 billion yuan in taxes, accounting for 86.5 percent, 90.1 percent and 89.6 percent of the respective totals for Puwan New Area.
Many renowned brands have facilities in the new area, such as Goodyear, Anheuser-Busch InBev, Dalian Hitachi and Dalian Cofco Malt Co.
Dalian Cofco Malt Co produces 400,000 metric tons of malt a year, the largest quantity in the world. Dayang Clothing Factory exports the largest number of suits in China, making it the biggest suit producer in Northeast China. Snowdragon Beef Co has its national beef manufacturing research center in the new area while Dalian Heavy Industry Propeller Co is the largest ship propeller producer in China.
Jiang said Puwan has created a cluster of industries that have distinct advantages in their respective fields and that the new area is exploring ways to become directly involved in the Belt and Road Initiative.
Puwan has a series of preferential government policies, including relaxed rules for revitalizing old industrial bases in Northeast China. There are also favorable policies for Jinpu New Area and subsidies for attracting businesses and investments.
"Puwan New Area will continue to streamline the administration process and ensure the shortest time for the approval of applications. Our one-stop service is aimed at building one of the best investment destinations in Liaoning, even China," Jiang said.
Jiang said Dalian has evolved into a city with 6 million people from just a small fishing village a century ago.
"Dalian will focus its development along the coastline, which endows Puwan New Area with more advantages to build a green, prosperous and modern city," he added.