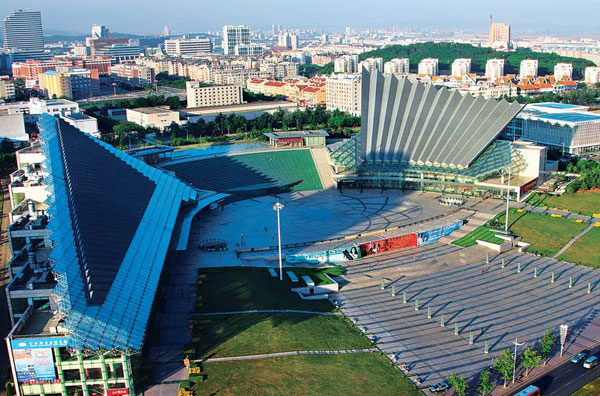 The cultural square, with a library, an exhibition center, a theater and a leisure squarea is a landmark in Jinpu New District,Dalian, in Liaoning province. [Photo provided to China Daily]
A tariff-free zone, bonded port, advanced infrastructure and simplified regulations are attracting domestic and overseas companies
"When I was still a university student, I had my first company registered here," said Liu Zhen, a young entrepreneur in Jinpu New District, Dalian, in Liaoning province. "After my graduation, I set up another company, and it took just one day to get the business license and corporate seal."
Liu is just one of many people who have achieved their dreams in Dalian, in the south of the Liaodong Peninsula, where a range of companies has benefited from China's reform and opening-up policy.
The central government approved the setting up of Jinpu New District on June 23, 2014, making it the 10th national new district and the only one in Northeast China. As the forefront of the reform and opening-up policy in Dalian, a series of functional zones has been established in the district, including an exports processing zone, national tourist resort, tariff-free zone and bonded port area.
The government's strategy positioned Jinpu New District as a strategic site for cooperation within the northeast Asian area, and a growth engine that will lead Northeast China to revitalization. It is also seen as a frontier for the transformation of development modes for old industrial bases, a demonstration area of institutional and independent innovation, a leader in new-type urbanization and urban-rural development, as well as an international shipping center and logistics center in northeast Asia.
Covering 2,299 square kilometers, Jinpu New District has the largest land area of the 13 national new districts. Situated in the center of the northeast Asia economic circle and off the coasts of South Korea and Japan, Jinpu New District enjoys geographical advantages, coupled with its solid development foundation and superior human resources. The district has benefited from the more than 30 years of reform and opening-up policy, and set out to speed up progress of the policy.
"Economic development is our top priority, and it's our lifeline to attract investment and businesses," said Zhang Shikun, a member of the Dalian Municipal Standing Committee and secretary of the Party Working Committee of Jinpu New District. "It's our core cultural concept to respect enterprises, entrepreneurs and taxpayers."
More than 20,000 businesses have moved to Jinpu New District. In addition, more than 4,000 foreign capital projects from more than 50 countries and regions have set up shop, of which 91 are major industrial projects with investment from 66 Fortune Global 500 corporations. These companies include US enterprises such as Intel, BorgWarner and Pfizer; European companies such as Volkswagen and SKF; Japanese companies Panasonic and Canon; and South Korean companies Hyundai and POSCO.
Jinpu New District has designed a manufacturing industrial cluster for high-end equipment, an industrial cluster for vehicle and core components, an electronic information industrial cluster, and a ports and logistics industrial cluster.
The district houses US schools, South Korean schools and Maple Leaf International schools, allowing the children of foreign employees to receive an international education. It is also equipped with first-grade libraries, theaters and tennis centers.