Editor's note: More than 1,700 participants from 90 countries are attending the Summer Davos in Dailian, Liaoning province, from Wednesday to Friday. Their discussions will focus on transformational science, industry disruption, economic uncertainty, China's "new normal", environmental boundaries and "being human". Below one participant looks at the influence of technology and innovation on economic growth.
For nine years, the Summer Davos meeting in China has provided an informal venue for leaders in cutting-edge innovation, science and technology to meet and discuss the pressing issues of the day.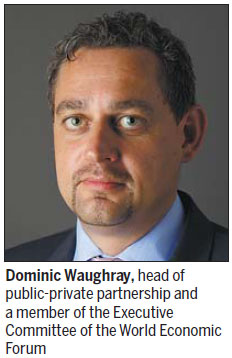 The concept is simple: From a diverse gathering of business innovators and science and technology leaders, new collaborations for the global good can be formed. So what can we expect from the meeting in China? How can the world's top entrepreneurs build partnerships with policymakers, industry leaders and nongovernmental organizations?
There is already a great deal to build on. Consider the greenhouse gas emissions cap that China has announced, or China's national Internet Plus strategy, which is aimed at rejuvenating traditional industries and helping to drive economic growth by integrating Internet technologies with manufacturing and business, or scaling the circular economy, which promotes a way of doing business that tries to decouple economic growth from the overuse of resources, all the while creating jobs.
The Summer Davos offers great opportunities to help advance some of this agenda.
The idea has worked in the past: six years ago, El Niño brought the worst drought in four decades to India and South Asia. Many at the 2009 Summer Davos were asking how countries could secure the food they needed, given the high levels of water stress and drought many were facing.
New partnerships were clearly required that could bring together innovators from across the business community to support governments in facing this challenge.
That year, the chief minister of Karnataka, the ninth largest state in India with a population of 60 million and a huge shortfall in water for urban needs, met with industry leaders and took a visionary step to develop a new partnership with the innovative Water Resources Group, a partnership incubated by the World Economic Forum in collaboration with the International Finance Corp.
The partnership has mobilized $300 million in investment and has now matured to a state-wide program to promote drip irrigation for sugar cane. Business innovators and technology providers have joined forces with the government and farmers and are helping to drip irrigate 1 million hectares of sugar cane across the state to the benefit of 700,000 farmers, and, crucially, saving 2.6 billion cubic meters of water a year that can be used to serve towns or support much-needed high-value industrial activities.
Closing the infrastructure gap is another global challenge being championed by the World Economic Forum where much activity and partnership have also taken place. New models for public-private project preparation facilities, blended finance and long-term investment models have been developed.
At a recent United Nations Financing for Development Conference in Addis Ababa, Ethiopia, the forum, in collaboration with the Organization for Economic Cooperation and Development and a coalition of public-private actors, launched three blended finance initiatives to help meet the United Nations Sustainable Development Goals.