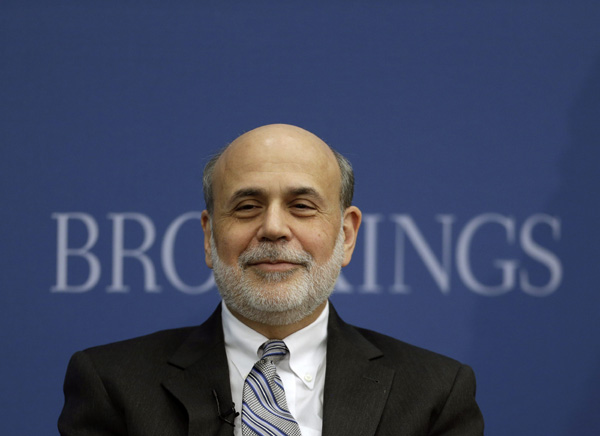 Ben Bernanke, former chairman of the United States Federal Reserve. [Photo/Agencies]
"The main task for China in the next decade would be the transformation of the growth model. It is still in the very early stage, but the Chinese have shown great capability to make such transitions," Ben Bernanke, former chairman of the United States Federal Reserve, said at the World Business Forum in Hong Kong on Tuesday.
The two-day forum, the first ever WBF to be held in the special administrative region, saw a stellar lineup of speakers from around the globe addressing the 1,200-odd delegates at the Hong Kong Convention and Exhibition Center.
"The current slowdown in growth is not the result of fiscal or monetary policies, but economic transformation. It is the right thing to do," Bernanke said, while noting the need for diversification into service sectors. "Deregulation is necessary to encourage the private sector to initiate all the changes."
Bernanke also said that the Chinese government is facing a lot of challenges, including the quality of bank loans, shadow banking concerns and property market fluctuations. However, "a Lehman moment" is not likely in China. "The government is pretty much aware of the risks and has got all the resources to tackle the problems as they emerge," Bernanke said.
Another key speaker at the event was renowned management strategist Tom Peters, who emphasized the need for global businesses to innovate, be willing to take risks and engage customers.
Firms should never be afraid of making mistakes, he said. Whoever makes the most mistakes wins and that is the paradox of innovation.
"Companies that do not continue to experiment-companies that do not embrace failure-eventually get into a desperate position," said Peters, dubbed an "uber-guru" by The Economist and co-author of the seminal book on management In Search of Excellence (1982).
"Success can only be achieved through repeated failure and introspection. In business, you reward people for taking risks because they are willing to try new things," he said.
The "gift of failure" was also the theme for Sarah Lewis, noted art historian and curator, and faculty member at the Yale University School of Art.
Lewis spoke to the WBF audience about the creative thrust behind each failure, and the difference between success and mastery, where success is a one-time event while mastery involves consistent excellence.
Apple co-founder Steve Wozniak, on the other hand, spoke of the fear of being overtaken by artificial intelligence, where people become too lazy to use their brains and are little more than the "family pet" needing constant attention.