China's super rich are buying chateaus and castles in Europe and the US as future investments, but many find the maze of red tape baffling
There is something awe-inspiring about their breathtaking beauty. Dotted around Europe's landscape are castles and chateaus with a fairytale quality intertwined with centuries of history.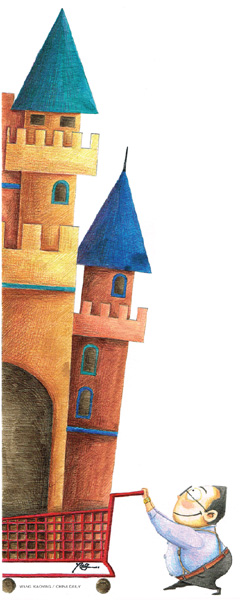 Owning such a rambling relic is everyone's dream, but only the super rich can usually afford to buy one. In what has become a growing trend, China's tycoons are starting to fork out millions of dollars for their own slice of the past.
Cheng Haiyan, 28, the daughter of the vastly wealthy Chinese businessman Zuochang Cheng, was the first in 2008. The family paid 2 million euros ($2.2 million) for the 60-hectare Chateau Latour-Laguens, which nestles in the hamlet of Saint-Martin-du-Puy in France's prestigious Bordeaux region.
Attractions
What attracted Haiyan was the gracefully decaying 15th century tower, and the irregular pond, stone-lined and shaped roughly like a kidney. There was also the world-famous 30-hectare vineyards that appealed to her father Zuochang, whose vast business interests include a wine importing operation.
"The Chinese connected with the pond and its irregularity," Bruno Roussy, who helped arrange the transaction, told the New York Times, "because the Chinese believe evil spirits don't like crooked lines. Zuochang Cheng also wanted to go to France, to the roots (of the wine-making business), and buy a chateau."
Since then, more than 30 affluent Chinese business people have invested in castles and chateaus in France and the rest of Europe, including the celebrated actress and film director Zhao Wei.
The 39-year-old has become a shrewd investor and reportedly paid 4 million euros in 2011 for the 16th century Chateu Monlot and its vineyard in Saint-Emilion, which is also part of France's Bordeaux region.
As well as the chateau, its garden and vines, Zhao also purchased existing stocks of the respected Monlot wine, including the 2011 and 2010 vintages. The grapes are grown on the seven hectares vineyard
"China's rich love to invest in real estate and to collect antiques, which have both value growth potential and cultural heritage," Knight Frank LLP, an upmarket real estate company based in London, reported in a research note.