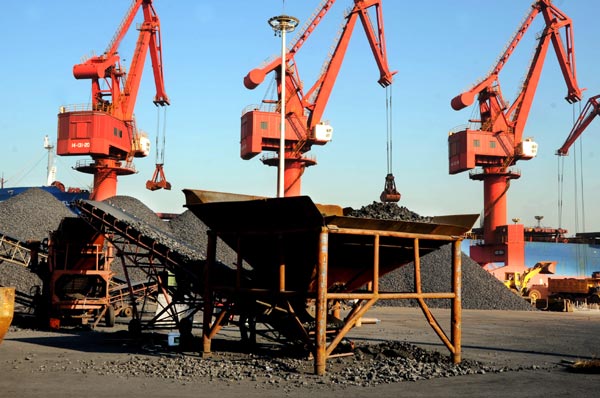 Imported coal is unloaded at Lianyungang Port, Jiangsu province. The nation imported 17.03 million tons of coal in March. [Photo/China Daily]
The nation's coal imports declined by 41.5 percent to 49.07 million metric tons during the first three months of the year compared with the same period in 2014, as downstream demand weakened further, customs data said on Monday.
The nation imported 17.03 million tons of coal in March, 8.26 million tons less than the amount it imported in March 2014, a 32.6 percent decline.
Imported coal products have not found many takers in China as they do not have any significant advantages over the low-priced domestic products, said an unidentified source at a power station in southern Fujian province.
He said that power stations and other users will import less coal in future due to the prevailing situation.
Deng Shun, a coal analyst with ICIS Energy, a Shanghai-based energy information consultancy, said China may import less than 200 million tons of coal for the whole of this year, if domestic coal prices stay low and demand continues to remain weak.
In 2014, China imported 291 million tons of coal, 10.9 percent less than it did in 2013.
"China's coal industry is suffering from losses and a weak market due to the nation's economic slowdown," said Jiang Zhimin, vice-chairman of the China Coal Industry Association.
He said on Friday that up to 80 percent of the country's large-scale coal companies were in the red for the first two months.