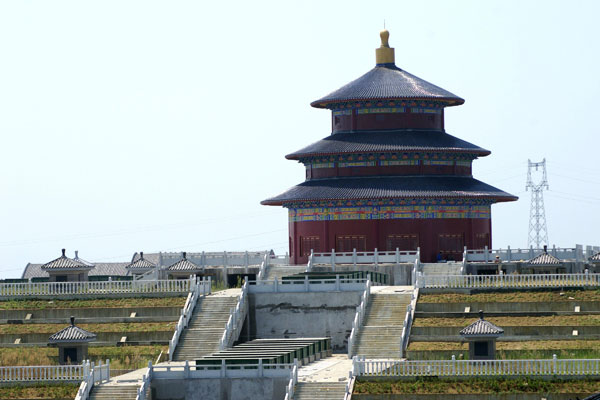 A luxury cemetery in Wuhan, Hubei province. [Jing Guan/China Daily]
The cost of where you are laid to rest when you die has been soaring in China almost as quickly as where to live when you're alive.
Although the government has been promoting what are considered frugal, even "green" funerals (such as at sea), the cost of securing a traditional cemetery plot can be astronomical, according to industry insiders.
In Shanghai, the average price of a plot, usually about one square meter, is at least 35,000 yuan ($5,650) and some prime cemetery plots can cost more than 100,000 yuan, much higher than the price, per sq m, of a luxury apartment.
"The prices of cemetery plots vary according to the location and surroundings," said one funeral industry worker, surnamed Li.
"For some high-end cemetery plots, the gravestones are made of granite or marble, and their layout and location are very carefully arranged, which all costs a lot," said Li, who estimates prices have increased tenfold over the past decade. "As land resources become scarcer, the prices of cemetery plots will only become even higher."
According to Chinese tradition, people believe the earth is the best shelter to rest after a long life.
"Based on that, some still insist on buying the most expensive plots as they believe that's the only way to fulfill their filial duties," said a salesman who works at one cemetery in Hangzhou, Zhejiang province, where the best plots start at 60,000 yuan.
"Most of our clients are wealthy and can afford such prices, but for the ordinary person that's too much and many cannot accept it."
It's a similar story elsewhere.
In Guangzhou, the capital of Guangdong province, for instance, the prices of average cemetery plots are believed to be even higher, at around 80,000 yuan per sqm.
Guangzhou Jinzhong Permanent Cemetery, located in the city's Huadu suburb, sells its plots from 60,000 yuan to more than 100,000 yuan, according to one recent media report.