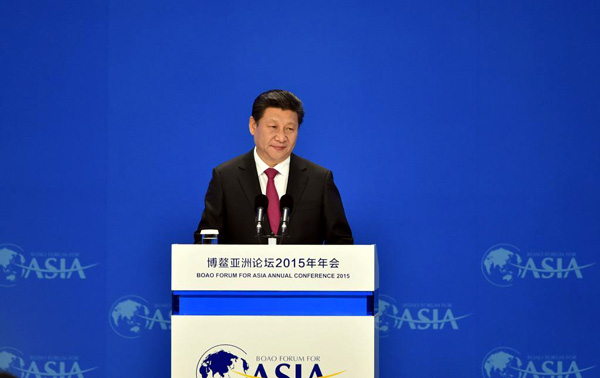 Chinese President Xi Jinping addresses the opening ceremony of the Boao Forum for Asia on March 28, 2015. [Photo/Xinhua]
A detailed action plan for the "One Belt One Road" initiative has been drafted and a string of infrastructure projects is being carried out steadily, Chinese President Xi Jinping said on Saturday.
China welcomes countries from Asia and the world to participate in the Chinese-led Asian Infrastructure Investment Bank (AIIB) and the initiative to revive the ancient Silk Road economic belt and the maritime Silk Road, President Xi said in his keynote speech at the opening of the Boao Forum in southern China's Hainan province.
"The initiative will not be China's alone but a chorus comprising all the countries along the routes," Xi said.
More than 60 countries have expressed interest in participating in the development of the AIIB and the "One Belt One Road" initiative which are open and inclusive, Xi said.
"China will seek complementary and coordinative development between the AIIB and other multilateral financial institutions including the Asian Development Bank and the World Bank," he said.
Regarding economic development at home, the president said that achieving a growth rate of 7 percent would be "quite impressive" for China given the size of its economy.
"We should not focus only on the growth rate when we look at China's economy," he said, noting that the economy is entering the state of a "new normal", a situation of slower growth with greater emphasis on quality and efficiency.
In the next five years, the value of Chinese imports will exceed $10 trillion and outbound investment will exceed $500 billion. The number of Chinese tourists travelling abroad will surpass 500 million, according to President Xi.
Xi said that the Chinese economy is highly resilient and has much potential that offers policymakers ample room of leverage and policy tools.
Last year, China's labor productivity grew by 7 percent and energy intensity per capita decreased by 4.8 percent, according to the president.