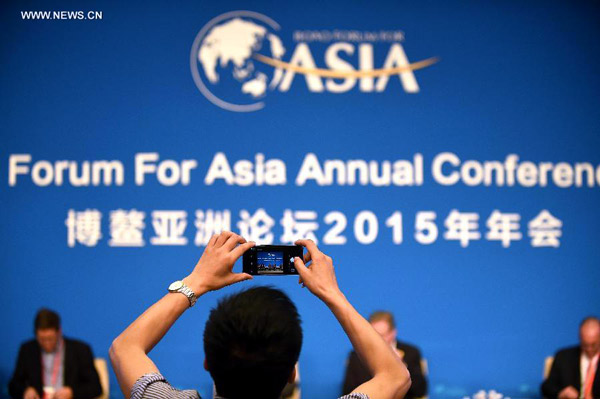 A guest takes photos with mobile phone at a sub-forum with the theme of "The Other Side of Big Data" during the 2015 Boao Forum for Asia (BFA) in Boao, south China's Hainan province, March 27, 2015. [Photo/Xinhua]
BOAO, Hainan -- China will work to promote a new type of international relations of win-win cooperation and will always remain a staunch force for world peace and common development, Chinese President Xi Jinping said on Saturday.
Xi said that while delivering a keynote speech at the opening plenary of the annual conference of the 2015 Boao Forum for Asia in Boao, south China's Hainan Province.
"China will be steadfast in pursuing the independent foreign policy of peace, the path of peaceful development, the win-win strategy of opening up, and the approach of upholding justice while pursuing shared interests," Xi said.
Xi noted that what China needs most is a harmonious and stable domestic environment and a peaceful and tranquil international environment, adding that turbulence or war runs against the fundamental interests of the Chinese people.
China has suffered from turbulence and war for more than a century since modern times, and the Chinese people would never want to inflict the same tragedy on other countries or peoples, Xi said.
Under the theme of "Asia's New Future: Towards a Community of Common Destiny", the forum held from Thursday to Sunday will span issues such as the China-proposed "Belt and Road" initiatives to Asia's economic integration.