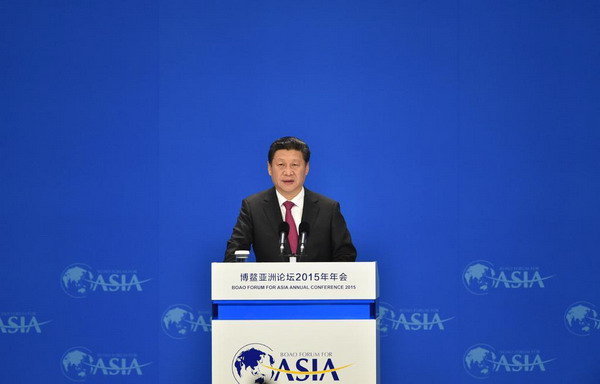 Chinese President Xi Jinping addresses the opening ceremony of the Boao Forum for Asia on March 28, 2015. [Photo/Xinhua]
The China-proposed Asian Infrastructure Investment Bank (AIIB) is an open initiative and China welcomes all countries to join the effort, said Chinese President Xi Jinping on Saturday.
"We will ... advance complementary and coordinated development between the Asian Infrastructure Investment Bank and such multilateral financial institutions as the Asian Development Bank and the World Bank," Xi told the annual conference of the Boao Forum for Asia (BFA).
Beijing is committed to vigorously promoting a system of regional financial cooperation and exploring a platform for exchanges and cooperation among Asian financial institutions, he added.
"The 'Belt and Road' and the AIIB are both open initiatives. We welcome all countries along the routes and in Asia, as well as our friends and partners around the world, to take an active part in these endeavors," he said, referring to the Silk Road Economic Belt and the 21st Century Maritime Silk Road initiatives.
The AIIB is a China-initiated international financial institution aimed at supporting infrastructure projects in Asia. It is expected to be formally established by the end of this year.
Twenty-one countries, including China, India and Singapore, signed a memorandum of understanding in Beijing in October 2014 to build the AIIB. Six other nations, including Indonesia and Saudi Arabia, joined the body until Feb. 9, 2015. As agreed, Beijing will be the host city for the headquarters.
The authorized capital of the AIIB is $100 billion and the initial subscribed capital is expected to be around 50 billion dollars. The paid-in ratio will be 20 percent. Founding members have agreed that GDP will be the basic parameter in determining share allocation among member countries.
In March, nine other countries, namely Britain, France, Germany, Italy, Luxembourg, Switzerland, Turkey, Austria and South Korea, have so far applied to join the AIIB as founding members. The application deadline is March 31.
Chinese economy 'highly resilient'
The Chinese economy is highly resilient and has much potential, which gives enough room to leverage a host of policy tools, said Xi.
He said that while delivering a keynote speech at the opening plenary of the annual conference of the 2015 Boao Forum for Asia in Boao, south China's Hainan Province.
The theme of the forum this year is "Asia's New Future: Towards a Community of Common Destiny".
China to import goods worth $10 trillion in 5 years
China will import more than $10 trillion of goods in the coming five years, marking continued opportunities brought to the world, Chinese President Xi Jinping said on Saturday.
"Chinese economy will continue to bring more opportunities of trade, growth, investment and cooperation for other countries in Asia and beyond," Xi said while delivering a keynote speech at the opening plenary of the annual conference of the 2015 Boao Forum for Asia (BFA) in Boao, south China's Hainan province.