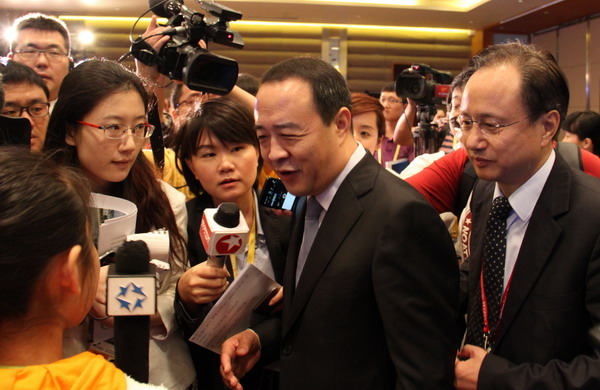 Mao Chaofeng, vice-governor of Hainan province, said that the tourism island will continue to ease its duty-free policy and bring in tourism professionals to develop the area into an international destination. Huang Yiming / China Daily
Hainan International Tourism Island in South China will continue to ease its duty-free policy and bring in tourism professionals to develop the area into an international tourist destination, according to top officials from the province.
Vice-Governor Mao Chaofeng said at a news conference on Friday in Boao that domestic and foreign tourism professionals are welcome to develop more itineraries and promote local tourism.
"We hope that more travel options, such as ecotourism, rural tourism and medical tourism, can be developed to attract more tourists," said Mao. "The province will also revise its policies in the cultural, sports and medical industries to attract more talent, customers and entrepreneurs."
According to the province, the variety of imported items available at its two duty-free shops has been increased to 38 now from 18 previously. The range includes baby formula, nutritional supplements and electric appliances.
Exemptions on certain imported goods worth up to 8,000 yuan ($1,290) in total are available for tourists, who can receive the exemptions twice each year.
According to the provincial government, as of Dec 31 a total of 4.09 million people had spent 11 billion yuan on the island since the two tax-free shops started operation.
The offshore duty-free program, which was launched in April 2011, now applies to the Haitang Bay Duty-free Shopping Center in Sanya and the duty-free shop in the Haikou Meilan International Airport.
There are visa exemptions for tourists from 26 countries. The provincial government said on Friday that people from those countries had accounted for almost 90 percent of all foreign tourists who visited the island since August 2010.
According to Mao, the special policies given to the island, including those involving lotteries and opening up, have stimulated tourist spending.
As of Dec 31, sales of instant lottery tickets in the province reached 1 billion yuan, which raised nearly 200 million yuan for charities. And a new kind of online lottery has been approved by the General Administration of Sport.
Preferential policies have also been given to the province to develop an international medical tourism pilot zone, which was approved by the State Council, China's cabinet, in February 2013.
The policies have allowed lower tariffs on certain medical devices and medicines, as well as state-of-the-art medical technologies and the operation of foreign-invested medical organizations.
Cang Wei contributed to this story.