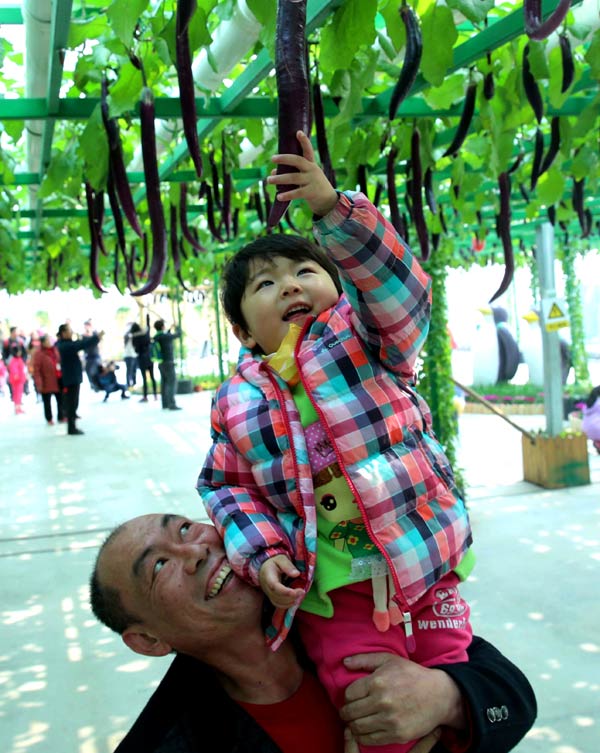 Visitors admire eggplants exhibited at the third Beijing Agriculture Carnival in Changping district on March 14. The event will continue through May 3. [Photo/Xinhua]
The third Beijing Agriculture Carnival kicked off at Strawberry Expo Park in Changping district on March 14. More than 550 varieties of agricultural products are displayed at the event, which continues through May 3.
Beijing, Tianjin and Hebei province are staging the carnival for the first time this year with an investment of 40 million yuan ($6.44 million), said Zhang Chaorong, deputy executive director of the carnival's organizing committee.
More than 800,000 visitors are expected to attend the event, Zhang said.
One of the features of the Hebei exhibition hall is grapevines where visitors will be able to pick their own grapes.
"I normally pick strawberries in the Beijing suburbs in March. It's a surprise to now have a taste of grapes from neighboring Hebei," said a Beijing resident surnamed Wang who was visiting the carnival.
Zhao Yanxue, a well-known grape grower from Raoyang county, Hebei province, said he brought a 7-year-old vine from his hometown and hoped to learn more advanced grape planting technologies from experts in the capital.
Experts from the Beijing Academy of Agriculture and Forestry Sciences, China Agricultural University and the China Grape Association visited the Hebei exhibition hall on March 14 and shared their experience in offseason grape planting technology.
"The advanced agricultural technology and top-notch talent from Beijing and Tianjin will greatly help with Hebei's development of modern agriculture," said Song Chunfu, director of the market office of the Hebei provincial department of agriculture.
Beijing, Tianjin and Hebei have signed strategic agreements on developing modern agriculture and will strengthen cooperation in areas such as agricultural planning, resource development and brand building, Song said.
"Hebei needs to cater to the huge demand for agricultural products in Beijing and Tianjin, and it can build unique agricultural bases into leisure centers," said Li Yongshan, deputy director of the Hebei provincial agriculture department, outlining the benefits of more cooperation.
In 2014, the expenditure on agricultural products in Beijing reached 200 billion yuan, according to Niu Youcheng, a member of the Standing Committee of the Beijing Municipal Party Committee and director of the Beijing United Front Work Department.
"Beijing is a megacity with a huge demand for agricultural products. Hebei serves as a supplier of agricultural products, and Tianjin has an advanced marine industry. Their joint efforts in staging the carnival will help promote their integration and the coordinated development of their agricultural industries," said An Yufa, a professor of agricultural economy at China Agricultural University.
"Beijing, Tianjin and Hebei's joint efforts in hosting the carnival are aimed at maximizing the utilization of resources in the region, promoting folk culture and the development of local agriculture and realizing integrated development," said Ren Rong, an official from the Beijing Commission of Rural Affairs.