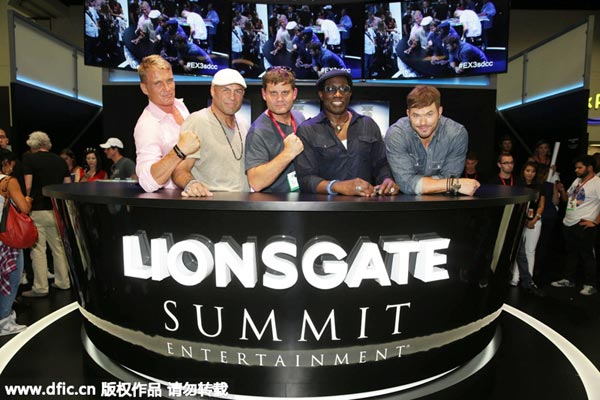 Dolph Lundgren, Randy Couture, Jason Constantine, President of Acquisitions and Co-Productions of Lionsgate, Wesley Snipes and Kellan Lutz seen at Lionsgate's "The Expendables 3" Talent Signing July 24, 2014, in San Diego. [Photo/IC]
CHANGSHA -- China's Hunan TV and Broadcast Intermediary Co (HTBI) sealed a deal with American film studio Lionsgate on Wednesday to invest $1.5 billion on co-productions in the next three years.
It is the biggest overseas deal in China's movie-making history.
HTBI will cover 25 percent of production costs for at least 50 Lionsgate films and pocket 25 percent of all returns. It has an option to distribute four of the films in China each year. Games and theme park development are included in the deal.
HTBI is the listed arm of Hunan TV, one of China's largest broadcasters producing some of the country's most popular shows.
The first batch of co-financed films will include "Gods of Egypt" and "Now You See Me 2", the sequel to blockbuster "Now You See Me" which earned $350 million at the box office in 2013.
"China has become the world's second largest film market and Lionsgate is one of the largest independent Hollywood filmmakers," said Long Qiuyun, the HTBI chairman. "The deal will bring Hollywood's production model to China and start an era full of imagination."
According to Lionsgate CEO Jon Feltheimer, it has been the most exciting proposition in the company's history. Feltheimer said Lionsgate and HTBI have much in common in terms of industry leadership, innovation and commitment to producing quality films.
Cooperation with HTBI will significantly expand Lionsgate's market share in China and bring more films with Chinese elements to the international market, he said.
Although the US is the biggest movie market in the world, it is saturated with limited room for growth, while the Chinese movie market is on the move.
China's box office sales totaled 29.6 billion yuan with 618 films on the screen in 2014, up 36 percent year on year. Its February box office topped 4 billion yuan, overtaking the US as the global box office champion.
Lionsgate has won 20 Oscars and 21 Emmys since it was established in 1997, and already has a presence in China. Its Twilight and Hunger Games series were hugely popular. Last July, Lionsgate and Alibaba Group launched a subscription video streaming service for the mainland called Lionsgate Entertainment World.
The HTBI, listed on the Shenzhen Stock Exchange, was the first listed media company in China. It set up a US branch in 2002.
The deal is just the latest example of Chinese businesses strengthening their ties with Hollywood.
Last June, Shanghai conglomerate Fosun International did a deal to invest in US film producer Studio 8.
In September 2012, China's leading private conglomerate Dalian Wanda Group Co completed acquisition of US theater chain AMC Entertainment Holdings, Inc, valued at roughly $2.6 billion.