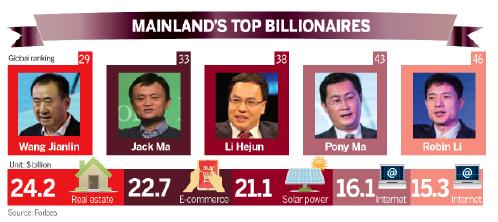 The less-than-stellar performance of Alibaba Group Holding Ltd's business and shares helped Wang Jianlin, chairman of Dalian Wanda Group Co, to beat Jack Ma to the title of the richest man on the Chinese mainland on the 2015 Forbes Billionaires List.
Recapturing top position from Ma this year, Wang saw his personal wealth rise to $24.2 billion from $15.1 billion a year earlier, according to the rich list released on Monday.
And it was the first time that Wang caught up with American financier George Soros to tie for the 29th position on the world's rich list,
That represents huge progress, considering Wang's 64th position on the same list in 2014.
Wanda Commercial Properties Co went public in Hong Kong at the end of last year, the largest initial public offering by a real estate development company. Wanda Cinema Line Co was listed in Shenzhen at the end of January this year.
As both shares rose, Wang saw his wealth increase accordingly as the largest shareholder.
According to Everbright Securities Co, Wanda Cinema Line has been successful with a large member system. Its performance will be further boosted by the increased number of new screens and the prospering industry.
Ma fell to second place with personal wealth of $22.7 billion, although that was up from $10 billion in 2014. His global ranking was 33rd this year.
Although Alibaba made a record IPO of $25 billion on the New York Stock Exchange in September, its share price sank at the beginning of this year due to disappointing fourth-quarter earnings in 2014 and a skirmish over counterfeit goods between Alibaba and the Chinese industry and commerce regulator.
Li Hejun, chairman of Hanergy Thin Film Power Group, overtook Robin Li of Baidu Inc and Pony Ma of Tencent Holdings Ltd this year to become the third-richest man on the Chinese mainland on the Forbes list with estimated wealth of $21.1 billion. He also saw his global ranking reach 38th this time around.
Hanergy, based in Yunnan province and listed in Hong Kong, saw its share price nearly double since the start of this year from HK$2.77 (35 cents) to HK$5.25. Its market value surged to $19 billion in a two-month period as of February.
After purchasing three Western thin-film solar businesses in 2013, Li added a fourth, Alta Devices from California, in 2014, and is benefiting from Beijing's incentives for the industry.
In all, 213 Chinese billionaires are on this year's Forbes rich list, 71 of whom made their debuts. The number of Chinese billionaires is now only second to that of the US.