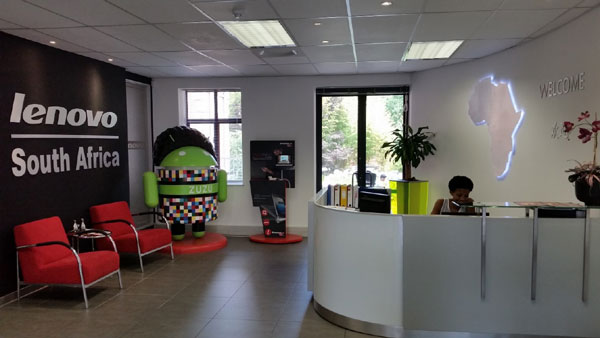 Lenovo's office in South Africa, provided to China Daily
Chinese laptop and tablets manufacturer Lenovo is making great inroads into the African continent, investing in sales channels well in advance to take advantage of the continent's rapidly growing information technology systems.
With expansion starting in South Africa, Lenovo has subsequently grown its footprint in both East and West Africa, becoming an important business and consumer brand across the continent, says Lenovo's general manager for Africa, Graham Braum.
Founded in Shenzhen in 1984, Lenovo's international expansion dates back to 2005 when it acquired the US high tech company, IBM's personal computer business. Today its tablets and personal computers can be seen amongst a wide group of consumers all over Europe, championing both function and design.
Braum says as a company Lenovo's expansion is significantly characterized by geographical expansion.
"From a global perspective, if we go back three years ago, half of the revenue from Lenovo was coming out of China. Nowadays, even though our China revenue continues to grow, we generate two thirds of our business from Europe, Middle East and Africa," he says. Having initially established a sales office in South Africa, and from there expanded to East African markets of Kenya, Tanzania, Ethiopia, Uganda and Rwanda. "We now have a full team in Nairobi, looking after our various segments, from consumer to retail, from small and medium enterprises to education," Braum says.
In West Africa, Lenovo initially invested in a legal office in Nigeria. Expansion then happened across Ghana, Zimbabwe, Mozambique and Botswana.
"Our first strategy is to set up a structure for services, supply chain and distribution channels. Secondly, we have to keep a global-local strategy, hiring the top local talents to run local markets. By empowering our regional teams, we empower our business," he says.
Founded in Beijing in 1984 by entrepreneur Liu Chuanzhi, Lenovo made a significant international move when it acquired IBM's personal computer business in 2005. The company also entered the smartphone market in 2012 and as of 2014 is the largest vendor of smartphones in Mainland China. Lenovo is listed on the Hong Kong Stock Exchange and is a constituent of the Hang Seng China-Affiliated Corporations Index, often referred to as "Red Chips." One example of Lenovo's local strategy is to put a great emphasis on products that sell well in Africa, which includes the Lenovo Yoga family of products. The series have four different modes: laptop, tablet, tent, or stand.
"We've built into it real design, innovation and functionality, all of which are unique ideas to the Yoga. The product is full high definition, it can stand and talk, and have all specifications required," he says.
As Africa's power supply can be limited in many situations, the Yoga products' long battery life of up to 18 hours has become a key advantage for its popularity on the continent.