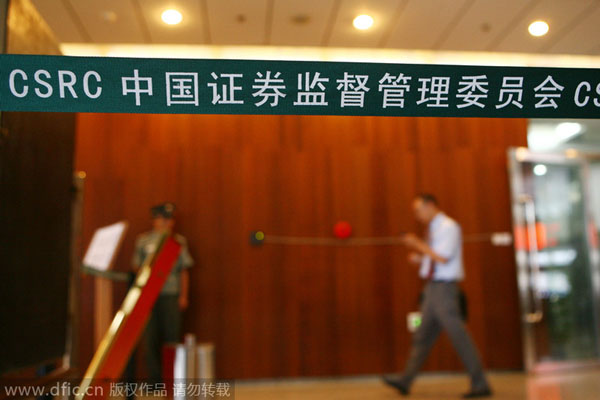 The headquarters of China Securities Regulatory Commission in Beijing, July 7, 2006. [Photo/IC]
China is expected to take a significant step in its capital market reform after the market regulator decided to relinquish control over new listings and transfer them to the Shanghai and Shenzhen bourses.
Sources close to the China Securities Regulatory Commission said on Monday that the change is expected to come into effect from June 1. After that, all IPO applications will be vetted by the stock exchanges, while the CSRC's public offering review committee will be disbanded.
The move has been widely anticipated by investment bankers, stockbrokers and securities analysts since the CSRC initiated discussions early last year on its intention to abandon the principle of approval in favor of one that emphasizes voluntary disclosure by the management of enterprises that are seeking to raise capital in the stock market through new listings. The "registration" approach is widely adopted by capital markets in major financial centers around the world.
The CSRC, however, has not issued any statement on the issue yet.
Investment bankers and stock analysts have said they would welcome such a change because the current system of approval was seen to be onerous and inefficient, leading to unduly long waiting periods for the CSRC approval.
More than 600 companies are waiting for the IPO review which has been delayed by an investigation into financial fraud. Analysts said they believe the speed of approving new IPOs will go up under the new arrangement.
However, the CSRC will continue to have an important investigative and enforcement role to play in the IPO marketplace. But the responsibility for due diligence and disclosure will now rest on the company management and their advisers, as it is done in capital markets like New York or Hong Kong.
China has been using the qualification verification based IPO approval system for more than 13 years. Under the current rules, mainland A-share listing applicants should go through multiple rounds of reviews lasting as long as several years to get approval from the securities regulator. Requirements include an annual net profit of more than 30 million yuan ($4.8 million) for three successive years before listing. In addition, the proposed IPO price has to stay in line with other stocks in the same industry sector, irrespective of the applicant's performance.
But the new leadership has been actively pushing for a transition to the registration-based IPO system, which emphasizes information disclosure and offers easier fund raising access to small and medium enterprises.