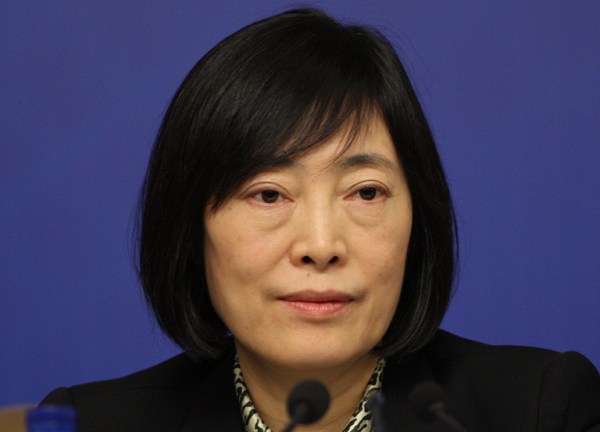 Hu Xiaolian, deputy governor of the People's Bank of China
The People's Bank of China is set to lose three of its four deputy governors as personnel change sweeps through the central bank's second tier.
Deputy Governor Hu Xiaolian, 56, is departing and is set to be appointed as the Export-Import Bank of China's new chairwoman, according to people familiar with the situation. Li Dongrong will retire, while Yi Gang may be replaced after a promotion last year to concurrently be deputy director at a Party body that oversees economic policy.
That will leave Pan Gongsheng, 51, as the only deputy to Zhou Xiaochuan, who himself has been the subject of speculation as to when his 12 years as governor will end.
Pan and Zhou will advise on how best to steer the economy as growth slows and capital leaves the country.
"The major monetary policy path wouldn't change," said Zhu Haibin, chief China economist at JPMorgan Chase & Co in Hong Kong. "The PBOC is an advisory organization and not the final decision-maker. The decisions come from the State Council."
The National People's Congress, the top legislature, will meet next month. Economists expect it will set this year's growth target at about 7 percent, down from 7.5 percent in 2014.
Hu will replace current Export-Import Bank Chairman Li Ruogu, who is set to retire, said the people, who asked not to be identified before an official announcement of the change. The bank is one of China's three major policy lenders.
The 21st Century Business Herald reported Li's plan to retire and said that Guo Qingping, an assistant governor, would be promoted to deputy. Li is 60 years old.
Yi, who also serves as head of the State Administration of Foreign Exchange, was promoted last year to the deputy-director position at the Party's Office of the Central Leading Group for Financial and Economic Affairs.
Fan Yifei, the chairman of the Bank of Shanghai, is the leading candidate to replace Yi at the foreign exchange regulator and as a deputy PBOC governor, Bloomberg reported last month.
Another deputy governor, Liu Shiyu, left in November to become chairman of Agricultural Bank of China Ltd.
Pan Gongsheng studied at Cambridge and Harvard universities and worked at Industrial & Commercial Bank of China Ltd and Agricultural Bank before joining the PBOC in 2012.
Zhou, who turned 67 last month, has overseen monetary policy since 2002, helping steer the nation through the global financial crisis. In 2013, Zhou was appointed a vice-chairman of the Chinese People's Political Consultative Conference, which raised his required retirement age from 65 to 70 and enabled him to direct the central bank for a longer term.
Zhu said Zhou will probably stay until 2017, the end of his term, as the next few years will be "key in China's financial reforms".