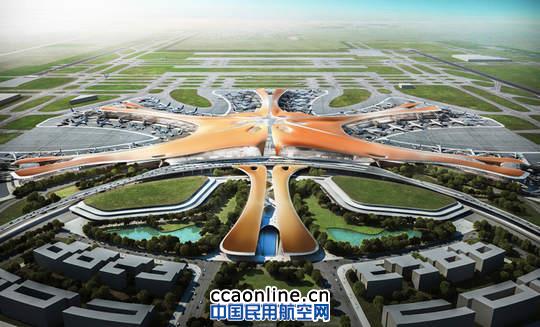 A design sketch of Beijing's new airport. [Photo / ccaonline.cn]
The concept design of Beijing's new airport, which will be the world's largest passenger airport when it is fully constructed, was completed recently, said a report from ccaonline.cn on Monday.
According to a design sketch, the overlook of the new airport's No 1 terminal is shaped like a starfish.
The terminal is expected to boast 82 independent gate positions, covering a length of 5 km and an area of 700,000 square meters.
The design is a cooperative project by French architectural firm ADP Ingenierie and British Zaha Hadid Studio, who won the bid last November.
Construction of the new airport started on Dec 26. The project will cost 79.98 billion yuan ($13.11 billion) and take about five years to complete.
The airport is designed to handle 72 million passengers, 2 million tons of cargo and mail, and 620,000 flights annually by 2025, according to the National Development and Reform Commission, which approved the plan on Dec 15.
The new hub, which has not been officially named, is in Beijing's Daxing district and is expected to become operational in 2019.