Fan Xiaojun, bureau chief of National Development and Reform Commission in Wuxi Binhu district, could be regarded as being in a happy position.
If the Chinese government acts to set a target of reaching high-income status by 2020 in the next Five-Year Plan (2016-20), as many now expect, his district will already have achieved that goal.
By the World Bank's current definition, Wuxi Binhu became a high-income economy three years ago.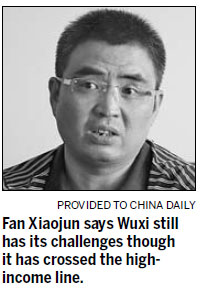 "The fact that we have already realized this goal does not mean that we don't have many weak points and challenges to contend with or that we have nothing to do now," he says.
The city in prosperous eastern China in Jiangsu province, near Shanghai, was one of the first areas of China to become a manufacturing hub after reform and opening-up in the late 1970s and is therefore at a higher level of development than most of the country.
Its per capita gross national income in 2013, the latest figure available, was $16,327, up 7.4 percent over the previous year's $15,204 and some 29.4 percent above the World Bank's $12,616 definition of high income. Wuxi as a whole had a per capita income GNI of $20,400 in 2013. The per capita GNI for China in 2012 was just $5,720.
"The pace and extent of economic growth here and all the manufacturing activity has placed great pressure on the environment, which we are now trying to deal with through a whole series of regulations," he says.
The most high profile aspect of the environmental damage manifested itself when there was a major algae bloom on Taihu lake, one of the largest freshwater lakes in the Yangtze River Delta. Some 1,300 factories around the lake were closed down and moved.
"That crisis was a major slap in the face for us. It resulted in a major concerted effort by the Wuxi city government to move many of the high-polluting companies away from the area."
Fan, the local head of the nation's top economic planner in Wuxi, was speaking in a meeting room on one of the higher floors of the Binhu district government's huge office building in Jincheng West Road.
He says Wuxi reaching high-income status in its own right was somewhat meaningless since it still had to operate within the rest of the national economy with its much lower income level.
"It is not really possible for Wuxi to realize a high-income economy without other parts of China developing. That is why the central government has put so many policies in place to develop different regions of China, such as the 'go-west' strategy," he says. The strategy is a major development push for the poorer western region of China launched at the beginning of the last decade.
"We in Wuxi and in the rest of eastern China rely on western and northern China for our resources, so their development is also key to our future development. We cannot run our economy in isolation."
He insists that the current income levels in eastern China do not mean that people had suddenly caught up with living standards in Europe or in the United States.