From top left: Feng Yanna, 34; Chen Yunna, 40. From front left: Feng's daughter Shen Qinwen, 8; Chen's daughters Liu Yuqing, 11 and Liu Yilin 8. HU HAIYAN/CHINA DAILY
Feng Yanna says to live a middle class lifestyle in China you need more than the current average income in Wuxi.
"About $20,000 a year is not a high income. It is not nearly enough to educate your children, have a nice home and feed and clothe yourself," she says.
The 34-year-old homemaker and her daughter Shen Qinwen, 8, were shopping at Wanda Plaza, one of the city's main shopping malls, with her cousin Chen Yunna, 40, and her daughters, Liu Yuqing, 11, and Liu Yilin, 8.
"I think you need more like $5,000 a month to enjoy a middle-class lifestyle here. I think that is what most of my friends would say too. I would say my husband, who runs his own business, and I more or less have achieved that."
The family was set to have a meal in one of the franchise restaurants and then go to the shopping mall's cinema to watch a movie.
"This is what we often do on a Friday," Chen says. "It is a nice way to end the week. However, it is a lifestyle that our parents couldn't have afforded even if such things had existed."
This greater affluence has brought about a huge change in retail trends, according to the general manager of one of Wuxi's largest department stores, who preferred not to be named.
"Even 20 years ago, retail was essentially just about food and clothing. It wasn't fashion clothing either. Just functional clothing to keep you warm," he says.
"Now the strong areas of retail tend to be driven by women in areas such as cosmetics, shoes and jewelry. I think this is because many women are working and have their own money to spend."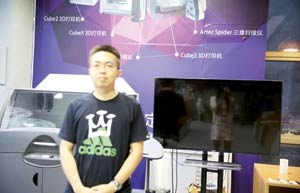 Cheng Jianyong, a design director at 3DRP, a 3D printing company. HU HAIYAN/CHINA DAILY
Cheng Jianyong, 28, a design director at 3DRP, a 3D printing company based in the Wuxi National Industrial Design Park, says focusing on rising income levels in China ignores the increasing cost of living.
After graduating five years ago, he now earns 120,000 yuan ($19,470) a year and got married this year.
"For me living the middle-class lifestyle in Wuxi means just paying the mortgage," he says.
"That takes up about half of my salary, and I wouldn't say that my salary is big in the first place."
Liao Wenjing, 30, industrial design director at Top-Tri, an industrial design company, based on the same park, agrees.
He believes that despite rising living standards there is still a big gap between lifestyles in China and in the West and also other Asian countries such as Japan and South Korea.
"That gap may have narrowed but the cost of living in China is no longer low. There are a lot of financial pressures, particularly on young families like mine," he says.
There are some in the city who would be regarded as comfortably well off in any country in the world.
Xie Zhengjie, 38, and his wife Yao Lina, 33, live off an income of 4 million yuan a year.
He is the owner of North Warehouse, a handmade leather products company based in Wuxi that was launched in 2005 and now employs 100.
"I don't think we are the exception. There are many people like us in Wuxi who have built up successful businesses. The people who have missed out on this tend to be the public servants, but they are compensated by the fact their jobs are quite stable."
The couple lives with their twin 12-year-old sons in a 6-million-yuan, 500-sq-m villa.
The family car is a Mercedes 300 E, which they upgrade every two or three years.
Xie, who was speaking in the Paulaner Brauhaus bar in the Kempinski Hotel in Wuxi, a popular hangout for wealthier locals, says he is very much first generation middle class.
"My parents, who are both retired, did clerical work. I suppose I am ambitious but there are other aspects of my life too that motivate me. I would like to think I still have a spiritual dimension. It is easier to say that if you have a high income in the first place."