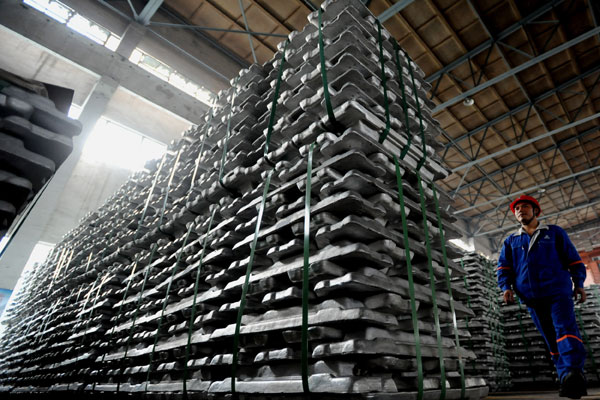 An employee checks stacks of aluminum ingots at a workshop of Aluminum Corp of China in Baise, Guangxi Zhuang autonomous region. [Photo/China Daily]
China can lead the world in clean energy applications, says billionaire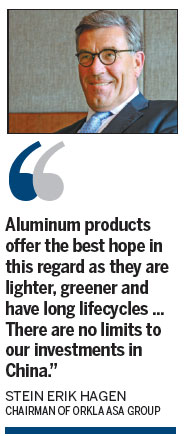 Stein Erik Hagen, the richest man in Norway, believes that China will continue to play a critical role in the global economic transformation and spearhead green energy applications worldwide.
Hagen, who made his fortune from retail and food businesses, said that the positive steps undertaken by the Chinese government will bring more foreign investment into the country.
"China is the second-largest economy in the world and undoubtedly the biggest market for all industries and companies," said the 58-year old chairman of consumer goods manufacturer Orkla ASA Group and hardware store chain Jernia. The burgeoning middle class in China will be the mainstay for industrial activity and for sustained business growth of several global companies, he said.
Though Hagen has visited China several times in the past, he terms his recent trip (in June) groundbreaking, as he was able to crystallize his China investment plans. During the trip, Hagen held extensive discussions with senior government officials and top executives from Aluminum Corp of China, or Chinalco, China CNR Corp Ltd and Commercial Aircraft Corp of China Ltd. Chinalco already has business ties with Sapa Group, the world's largest aluminum extrusion firm and an Orkla unit. The other two Chinese companies are also Sapa clients.
Hagen, along with Sapa Group officials, also held discussions with officials from the Ministry of Industry and Information Technology on cooperation opportunities in China's 13th Five-Year Plan (2016-20) and on popularizing Sapa's advanced green aluminum applications in China. Sapa, which has already popularized the applications in North America and Europe, believes that its solutions are ideal for China's green energy goals.
Though Hagen indicated that his group would continue to invest in China, he did not reveal any actual numbers. Orkla Group has already invested in aluminum plants in Suzhou and Jiangyin, in Jiangsu province, he said.