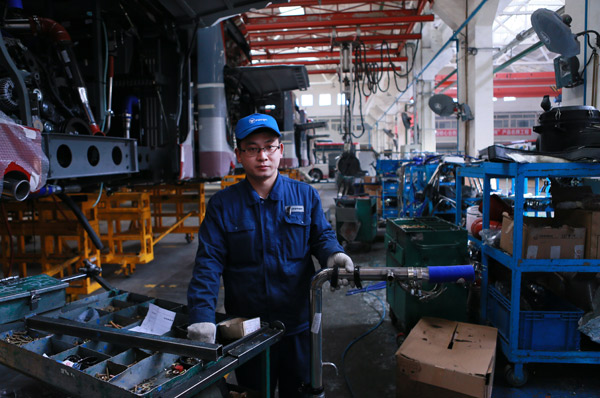 Xu Libo, a worker at Foton in Beijing, has settled for " more money for more work". Zou Hong / China Daily
On a factory floor near the edge of Beijing, Xu Libo peers into the coiled and convoluted innards of a partially-built bus, shouting to be heard over a cacophony of tools and machinery.
Up and down the assembly line, other vehicles under construction stretch away like a pod of beached cetaceans in various states of decomposition.
A small army of workers in blue overalls drill and weld and cut and bolt. The young men wear their caps backwards, or sideways, or flipped so the brim points up at grimy skylights overhead; the older men wear theirs straight and jammed down hard to their eyebrows.
Somewhere in the cavernous workspace, rising above the screech and rumble and hiss of industry, Judy Garland sings Over the Rainbow through tinny speakers.
Xu stops to wipe the sweat beading on his forehead and surveys the organized chaos of the Foton factory in Changping, where he works alongside roughly 6,000 other mostly male employees from all over China.
The 32-year-old shakes his head in a moment of contemplation as he stares at the marvels of machinery ready to roll off the end of the line.
"I was born in 1982," he says. "In my hometown of Shiyan in Hubei povince, automobiles were really rare. When we saw a car back then, it was like seeing a UFO."
China has changed since Xu's youth, when he used to help his parents farm rice and corn, and the entire village would gather around a single black-and-white TV in the evenings.
When he was a boy, the closest local factory made mostly military vehicles.
Xu's current employer, automotive manufacturer Foton, now boasts almost 50,000 workers nationwide and exports some 40,000 vehicles every year into many of the 125 different countries.
A self-confessed TV news junkie who obsessively follows global current affairs, Xu says he occasionally catches glimpses of trucks and buses he has built.
He sees them traveling down streets in countries and places he has never been, driven by people he has never met.
"Most of the time, we only see the cars in the factory," he says. "It makes me feel excited."
From subsistence farmer to factory worker to production line supervisor and homeowner, Xu is the changing Chinese worker.
After work, Xu and his workmates play some basketball. Later in the evening, he says they might sing karaoke.
Xu often has a few beers with the old timers first.
They tell him stories of a China vastly different from the one he knows.
"After work, they talk a lot about their experiences and life during the "cultural revolution" (1966-76). They talk about when people couldn't afford to eat."
The changes Xu has experienced over his life are of a different nature, but no less dramatic.
Xu is one of almost 269 million migrant workers in China, men and women who have left their hometown temporarily or permanently, chasing jobs and higher wages in the nation's cities and manufacturing centers.
After graduating from high school, he got a job with a car manufacturer in his home province, where he worked until his cousin helped secure him a position with Foton in 2009.
"When I was young my family couldn't afford to send me to university," he says.
As a manufacturing worker though, the career he was embarking on was a step up financially from life in the fields.
Newly wed at the time, he left his wife behind in a bid to set them up for a better life.
Xu says at Foton five years ago, he was earning 3,000 yuan ($481; 349 euros) a month.
"Now I make 5,000 yuan a month," he says.
The company also provides employees with basic health insurance, and the option of subsidized meals and onsite dormitory-style accommodation.
But there's a tradeoff. He now works an average of 11 hours per day, six days a week, compared with eight hours a day roughly two years ago.
More money for more work is a deal he's prepared to take.
After a few years at the coalface, Xu is now supervising a team of six other workers. He says in four months, he earns as much as his parents do in an entire year farming rice and corn.
Tellingly, the nature of the work he is doing has also changed.
"Back when I started, the main requirement for a bus was to fit in as many people as possible," he says. "The requirements for safety and comfort have now increased. Part of my job is also ensuring the safety of my team."
Three years ago, Xu and his wife had a baby girl.
It's now more important than ever, he says, for him to work and save as much money as possible. It is also more difficult than ever for him to be so far away from home.
"Every day after work I call my daughter," he says. "She sings me Chinese songs and reads me Chinese poems. It's beautiful.
"I go back to see my family every chance I get. That means I normally see them during the holidays, twice a year."
Recently, Xu moved out of the company dormitory and into a single room with a communal bathroom on the fringes of Beijing, which he rents for 300 yuan a month.
He survives on 1,500 yuan every month, eating in the cafeteria at work or at local food stalls. He sends the rest of his wages home to his parents and his wife, who has recently opened a baby products store in their hometown.
Xu's dreams for the future are simple. He wants to move back home to live with his family and make sure his daughter has the best start in life possible.
One day, he hopes to take his loved ones on an overseas trip, maybe to Australia. If China's recently relaxed family planning rules allow for it, he says in a few years he and his wife might also have a second child.
"My plan is to improve my salary, so I can improve the life of my family. I want to give my daughter the best care and education I can. I want her to study hard and enter a good university, but mostly I just want her to be happy. I will respect her choices in life. Eventually, I want to go back to my home town to be with my family and work in the shop with my wife."
A few years ago, Xu bought a 100-square-meter apartment in his hometown for 100,000 yuan. He paid cash.
"Beijing is good, but nothing compares with your home town," he says with a smile.
Xu defines his generation of Chinese worker as hardworking and ready to sacrifice all for the good of their family.
He says the younger generation of people in the factory, often vocational school or university educated, are more self-centered. He credits his humble origins for his work ethic.
Foton public relations secretary Wang Hongcui says the average age of the company's Beijing employees is 30. There are 10 men for every one woman on the production line, but the gender ratio is roughly equal in management.
She says the average salary is currently about 4,000 yuan a month, with senior workers able to earn about 8,000 yuan a month. Ten years ago, the average wage was about 1,000 yuan.
"One of the managers who came here in 2004, a university graduate, earned 1,500 yuan a month," she says. "If he started the same job now, he would be on about 4,000 yuan a month."
Xu says the wage rises and the opportunities that have come with a shifting focus on producing high end products have opened up a new world to Chinese workers like him.
"I'm proud that people all over the world ride in vehicles that I have helped make.
"There are so many changes in China in the last few decades. Every family used to own a bicycle. Now, so many people own cars.
"I plan to buy one in about two years."
Xie Wenjia contributed to the story.