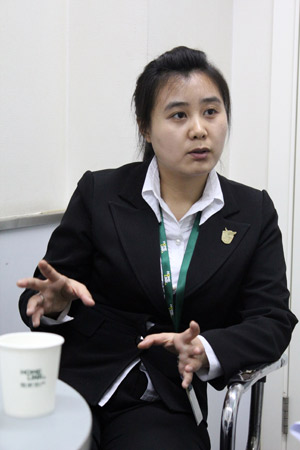 Hu Jinjuan sells an average of two homes in Beijing
each month. Wang Zhuangfei / For China Daily
On a bustling Beijing footpath, sharply dressed young men and women assemble in a formation three ranks deep, standing at attention with backs straight and eyes fixed forward.
At 9.30 am on the dot, in absolute unison, they raise their voices in song.
"I promise I will strive for excellence and have no fear of difficulty," they sing in Mandarin. "We need to cooperate with each other and work together to make a brighter future."
It's Hu Jinjuan's favorite stanza of the Homelink ode, the song that all company employees sing to inspire them for a day of selling real estate in Beijing's property market.
"The lyrics are about our dedication and achieving our hopes and dreams for the future," she says.
Hu, 28, is a migrant worker from Hebei province who grew up in a small village only a few hours drive from Beijing.
Not that long ago, her dreams and the nearby capital city both seemed impossibly far away and out of reach.
"My hometown is warm and friendly, but very poor," Hu says. "Even though it's getting better now, there is no industry, and very few opportunities for young people. Many people there think there is no need for a woman to study, that they should just stay home and look after the family."
Last year, Hu was named the top selling real estate agent at Homelink, the company that sells 52 percent of Beijing's resale homes.
Her personal journey, from poor farmer's daughter to promising professional with a property portfolio, is one thread in the greater narrative that is the changing life of the Chinese worker.