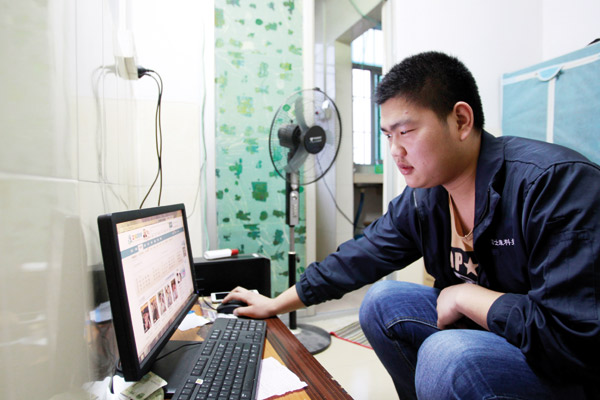 Lu Erfeng mostly spends his day off each week watching movies on his PC. Zou Zhongpin / China Daily
Lu Erfeng has just handed in his resignation. After almost four years of punching out chips for Apple gadgets on the manufacturing line at Foxconn in Shenzhen, the 21-year-old migrant worker from Henan province says he has had enough.
He doesn't particularly like the job. But that's not his main reason for leaving. With wages rising across China, Lu reckons he can make more elsewhere, and get work he finds more interesting and engaging in the bargain.
Lu ranks among the new generation of Chinese worker who, unlike their forebears, aren't necessarily burdened with the responsibility of financially supporting their parents. They are marrying later and when they do, their families are generally smaller.
Young workers like Lu have a choice that is relatively new in China: they can pick and choose where they want to work.
It's the evening before payday, and Lu is sitting on his bed in the shoebox apartment he's been renting in Shenzhen for 450 yuan ($72; 52 euros) a week.
"I have only 1 yuan left until tomorrow," he says.
The building he lives in rises up out of a labyrinth of alleyways filled with strolling elders and children at play.
Seven flights of stairs above street level, his room contains a cardboard box for a side table, a clunky old PC, and not much else.
"I don't really like the job because I don't make enough money," he says.
He looks embarrassed and frustrated as he explains why he doesn't keep in frequent touch with his parents back home, even though he misses them.
"I only call my parents once a month because I don't know what to say to them, because I don't make enough money."