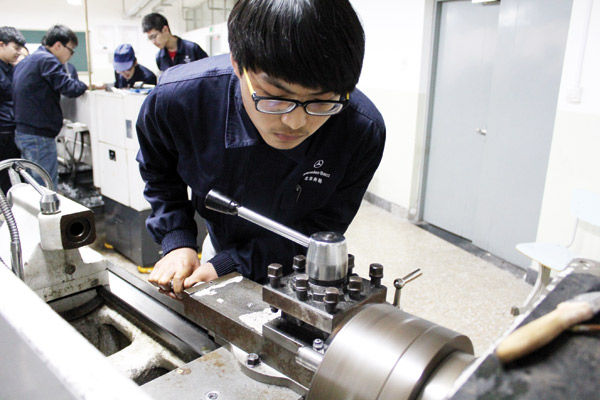 Zhao Zhihao from Beijing Polytechnic, the biggest vocational school in the Chinese capital, is learning basic lathe and turning work at the institute. Wang Zhuangfei / For China Daily
Manufacturers, academics want to see more skills-based training imparted to students so that they can cope with changing economy
Foxconn, other manufacturing giants, and several prominent academics have added their voice to a growing call for more Chinese students to learn practical skills-based vocational training.
Foxconn's Chinese mainland spokesman, Liu Kun, says the mass producer of products for popular brands including Apple is being forced to act as a de-facto training center for young, unskilled migrant laborers.
"I think it's a serious situation not only for Foxconn, but for all the factories in China," Liu says. "The quality (of workers) should be improved. All the boys and girls born in the 1990s should be well-educated compared with those born in the 70s or 80s. But the fact is, those born in the 70s or 80s perform better. I think this is a failure of education, especially vocational education."
Liu's comments come after the Chinese government recently introduced measures aimed at pushing forward the development of modern vocational education, a move the Foxconn spokesman says his company strongly supports.
In the wake of a State Council executive meeting in February, which was presided over by Premier Li Keqiang, local governments were instructed to court private sector partners in establishing more higher and secondary vocational schools in a bid to bolster employment opportunities and meet the needs of industry.
In a statement, the State Council said it also advocated curriculum reforms to make sure students are obtaining relevant skills, to "open more career opportunities".
About 6 million students graduated from more than 1,300 registered higher vocational schools last year, a figure almost on par with the number of university graduates in 2013, according to the Ministry of Civil Affairs' Vocational Skill Assessment and Guidance Center.
The organization's deputy director, Yang Genlai, says the central government's backing brings with it the possibility of establishing a national system in which students' vocational certificates could be converted into credits at normal universities.
"Students with both vocational certificates and academic degrees will be hot on the jobs market," Yang says.
Beijing Polytechnic, the capital's largest vocational school, has a student body of 10,000. Some enroll at age 15, after graduating from junior high school, others at 18 when they finish senior high school.
The school has collaboration programs with auto giants such as Daimler AG, Ford Motor Co, Jaguar Land Rover and Citroen.