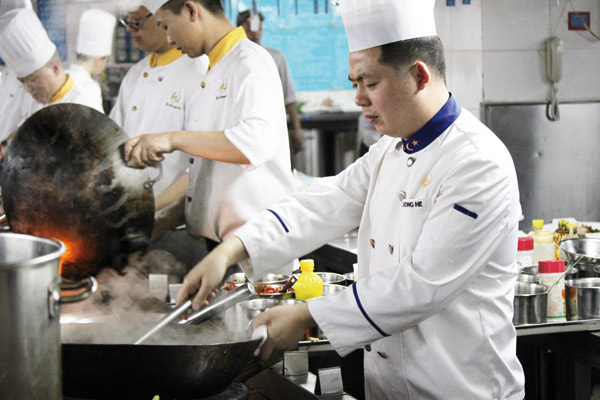 Li Zhiqiang says creating new dishes has been the best thing in his job. Huang Zhiling / China Daily
When Li Zhiqiang was less than 14 he worked in a tiny noodle restaurant with only a handful of other staff cooking noodles all day. He was paid 50 yuan a month.
In the evening, he slept on tables in the restaurant - tables on which his noodles would be served the next day.
Now Li, 33, a native of Songlin village in Zhongjiang county, Sichuan, is the general manager of Daronghe La Defense, a swish restaurant in the provincial capital, Chengdu, whose owner employs 320 people. Li says his annual income is more than 1 million yuan ($160,500; 116,000 euros).
Li is the youngest of four children whose parents violated the country's family planning policy and were fined repeatedly for doing so, making it difficult for them to make ends meet.
"My family was one of the poorest in our village," Li, wearing a T-shirt, says in his clean, sparsely decorated office on the second floor of Daronghe La Defense's sprawling headquarters in Chengdu.
"On the sixth day of the (15-day) Spring Festival holiday in 1995, I had to leave the village for Chengdu with my 17-year-old sister. I had 25 yuan in my pocket. After I paid the long-distance bus fare, I had only 10 yuan when I arrived in Chengdu."
After standing for half a day near a spontaneously formed labor market in the city with countless job hunters from rural Sichuan, Li was offered a job in a restaurant cooking noodles and washing dishes.
He was keen to learn something about cooking, but was unable to do so, and he quit. He was then offered a job in a restaurant in the city's suburbs where he would receive accommodation and food but no wages for the first six months.
"My duty was to slaughter fish and snakes and wash bowls. At that young age killing snakes really frightened me."
In his three years in the restaurant, nobody taught him how to cook dishes or make pastry, he says. But he took every opportunity he could to observe cooking, pastry making and making mixed hotpot condiments.
"Once as I took notes on how to mix hotpot condiments, I was beaten and the paper was torn into pieces. The manager was afraid the recipe would fall into the hands of competitors."
But Li eventually distinguished himself as a chef and pastry maker. Chengdu Daronghe Restaurant Management Co Ltd opened Daronghe La Defense, its first restaurant, in 1999, and Li the self-taught chef started working there.
Eager to draw inspiration from fellow chefs in cooking new dishes, he also worked as a waiter in many upmarket restaurants in Chengdu.
"As a chef, it is quite easy to learn how a fellow chef has made a new dish by looking at the plate," he says.