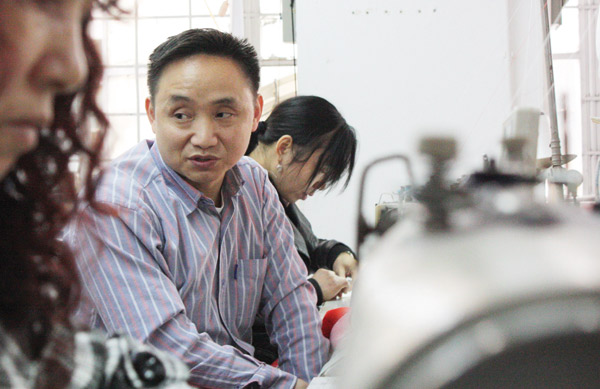 Lu Keqin, a sewing workshop owner, says he is struggling to survive as overseas orders have fallen sharply. Photos by Joseph Catanzaro / China Daily
The elderly women sit on a step by the side of the road and sew by hand. Their weathered faces are maps of smile lines and crow's feet, their hands and chatter lightning quick.
A small mountain of denim jackets teeters precariously in front of them, piled up right out on the street. The hole-in-the-wall workshop behind them is crammed with sewing machines and workers and material.
On either side of the narrow thoroughfare where the women stitch, big old factories tower like rust and ruin reefs.
No one seems to remember the original purpose for the long, multi-level structures. Every nook and cranny of both buildings is now occupied by tiny factories and workshops, organic growth on the skeleton of a failed big business, teeming pockets of industry separated by thrown-up partitions.
In one of those small spaces, Lu Keqin sits at a sewing machine with about half a dozen others, deftly making women's business shirts. The 44-year-old has been at it since 8 am, and he won't finish until midnight. It's a work routine he follows every day, seven days a week.
Unlike the others, Lu is not an average sewing workshop employee, although that is how he started out. He's the boss, this is his business, and it's struggling.
A few seats up from Lu, an older woman sits and stares at a faded bit of graffiti on her machine while she works, humming to herself.
It's a love heart and some initials.
"I don't know who put that there," she says. "It was from before my time."
Across from her, Zhao Shuang, 30, works in silence.
Her fingers deftly run the beginnings of a lacy top under the insistent stab of the needle, her tiny feet work the pedals.
A migrant worker from Hubei province, Zhao came to Shenzhen about a decade ago chasing a higher pay packet in the city. The mother of one says wages and conditions have improved dramatically in the past few years. She makes about 4,000 to 5000 yuan ($641 to $801 , 464 to 580 euros) per month, on par with the average wage for a university graduate in Beijing.
It's good news for her family back home.
Even though she only gets to see them twice a year, she says she and her construction-worker husband are saving to send their 5-year-old daughter to university when she grows up.
Lu doesn't resent paying his workers more, but it is one part of the multifaceted problem facing his business.
Back in 2008, Lu owned a 1,000-square-meter factory and had 70 employees. For a migrant worker from Jiangsu province, the enterprise was the culmination of years of hard work at a sewing machine, of scrimping and saving.
Business was booming, foreign orders from Europe and the United States were rolling in.
"I was making about 1 million yuan a year," he says.