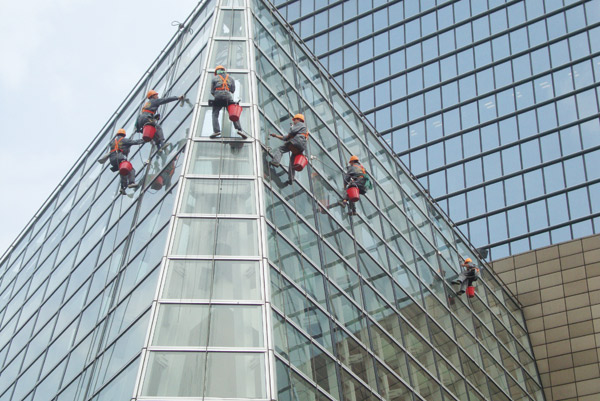 Skyscraper cleaners working at high buildings are often invisible to people on the ground. Provided to China Daily
Spidermen are indispensable for the 492-meter Shanghai World Financial Center, the tallest building in China.
These real-life replicas of the film character are the cleaners who each day scale the building, courage clasped firmly in hand, to put the best face on the skyscraper for those inside and out.
Hu Bensheng, 39, who works for Shanghai Xin Dong Hu Environmental Clean Technology Co Ltd, is one of them. Even though he has cleaned skyscrapers for about 20 years, he still feels nervous every time he scales the heights, he says.
The job is much more difficult than you might imagine. The structure needs to be studied thoroughly in advance. Some windows include eaves that can be an obstacle for cleaners. Surmounting that obstacle may be a cakewalk on the ground, but is something altogether 200 meters up.

Skyscraper windows usually take several days to clean, Hu says.
Changing water is also a difficult job. "We have to go to the floor that has facilities such as water pipes to change water. Then you have to go back to the window to resume cleaning. In good conditions it usually takes us 20 working days to complete a 240-meter-tall building. But with time off added for wind or rain that can stretch out to a month."
Skyscraper cleaners working at 240 meters are often invisible to people on the ground. One of the keys for the safety of Hu and his workmates is their rope, which is made of olyamide, which is at least 2 centimeters in diameter. This is lowered from the top of the building and attached to rigid parts. Blankets are used to cover eaves to reduce friction. Apart from the main rope, there is a safety rope, which together can weigh 40 kilograms.
"Our company has accident insurance that is as much as 500,000 yuan ($80,300; 58,000 euros) for each person, which is compulsory. Indeed, all the safety measurements and the safety system are completed based on life costs. I have been in this industry for 20 years and have not seen an accident in our company. We attach great importance to safety. Usually, both work ropes and life ropes have to be changed every two years under government regulations. Our company changes them more frequently to be on the safe side.
"If a project has extreme safety risks, our company turns it down. The managers will not put our lives at risk."
On a regular day, Hu works six to seven hours. There is a 90-minute lunch break. As he approaches the legal retirement age for skyscraper cleaners, 45, he is now making plans for the rest of his life.
"I may start my own business, like running a small restaurant selling snacks with local specialties. But I have not thought it through yet."
Unlike many other migrant workers in first-tier Chinese cities, Hu has lived with his wife and son in Shanghai since he arrived there 20 years ago. He is paid about 6,000 yuan ($962; 697 euros) a month, and his wife, an office building lobby cleaner, is paid about 4,000 yuan.
That allows them to rent a 40-square-meter apartment at the foot of Xupu Bridge in eastern Shanghai. The rent is 1,100 yuan a month, and Hu says he usually sends 1,000 yuan a month to his parents in his hometown, Lu'an, in Anhui province, which he says is not too burdensome.
In 2011, Hu managed to buy a 90-square-meter apartment in his hometown that is valued at more than 450,000 yuan ($72,135; 52,245 euros), he says. He is proud to say he paid for it without having to borrow money.
"I thought of buying an apartment in Shanghai. But house prices here are too intimidating. A 50-square-meter apartment can set you back as much as 1.4 million yuan."
Hu says he dropped out of school when he was still in senior high as his family could not pay school fees. His son, 14, has returned to Lu'an to attend junior high school. But Hu says he and his wife have not set ambitious targets for his son.
"It does not matter if he excels at school or not. It's good enough if he tries his best. It is hard to say if a person who stays at school for years will eventually succeed. But you can be sure of one thing: anyone who drops out early is unlikely to do well."
Hu says that since his job is demanding physically, he spends most of his free time at home.
"Reading the Bible is my favorite pastime. It gives me peace and wisdom. It is awful when people don't believe in anything. You can easily feel lost. I go to church on weekends. But more often, I listen to the minister preach online, which is very helpful."
Hu has also thought of traveling overseas. "But I am not sure where to go. So let's say all the cities are my destinations," he says.
"If I ever do go overseas or meet a foreigner in Shanghai who asks what I do for a living, I will happily tell him I am one of those who helps keep the tallest building in China looking brand new."