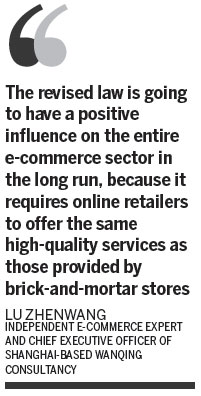 China's revised consumer rights law, which includes a seven-day cooling-off period during which shoppers can get a refund for online purchases, may push some small e-retailers out of business, said industry insiders.
The revised law, which takes effect on Saturday, is expected to raise standards in the booming e-commerce sector. But giving customers the right to return purchases will mean higher costs for service and logistics, an extra burden for small online retailers.
"The revised law is going to have a positive influence on the entire e-commerce sector in the long run, because it requires online retailers to offer the same high-quality services as those provided by brick-and-mortar stores," said Lu Zhenwang, an independent e-commerce expert and chief executive officer of Shanghai-based Wanqing Consultancy.
"Big business-to-customer platforms such as Alibaba's Tmall.com and JD.com already have return policies. Their core strength in the e-commerce sector is good service," Lu said.
JD.com, China's second-largest B2C platform, has had a seven-day refund policy since the beginning of this year.
According to e-commerce giant Alibaba Group Holding Ltd, nearly 15,000 retailers on its customer-to-customer platform Taobao.com have voluntarily extended their refund periods from seven days to 15 days. Those changes affect as many as 3.86 million items.
The revision to the Consumer Protection Law, the first change since the law was established 20 years ago, regulates merchandise and service transactions through the Internet, television, telephone and postal service for the first time.
The law specifies that all purchases made online can be returned unconditionally within seven days, except for four categories: customized products, fresh and perishable products, digital products (software and online downloadable goods) and newspapers and magazines.
Pi Xiaolin, a vice-director in charge of processing consumer complaints at the China Consumers' Association, said that the number of complaints filed about online shopping has increased 50 percent year-on-year over the past three years.
"Most of the complaints are about poor quality", said Pi.
Shopping online is an increasingly important economic activity in China.
Revenue in the nation's online retail market reached 1.8 trillion yuan ($292.68 billion) in 2013, according to the Ministry of Commerce.
The ministry has forecast that China's e-commerce market will soon overtake that of the United States as the world's largest.