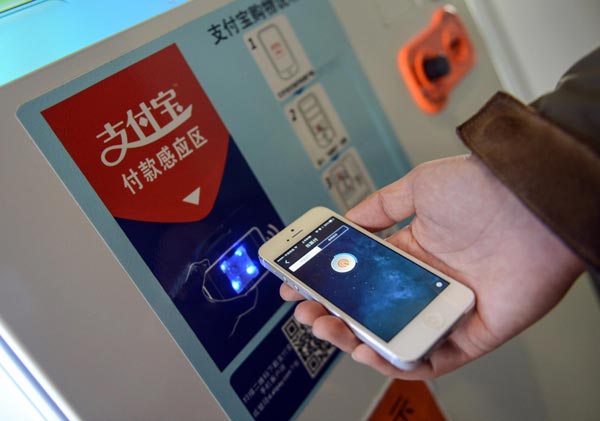 An employee at Alipay, the online payment arm of Alibaba Holding Group Co Ltd, shows how to make payments by scanning a bar code with mobile devices in Hangzhou, Zhejiang province. China's central bank ordered on Friday a halt to such payments amid concerns over the security of their verification procedures. Han Chuanhao / Xinhua
China's central bank hit the brakes on burgeoning virtual credit card services and barcode-based
mobile payment
s as competition for the country's
Internet finance
services becomes cutthroat.
The move, made just two days after major Internet companies launched such services, has sent the shares of the relevant companies tumbling amid concerns that regulatory supervision may tighten in favor of the mammoth State-owned financial institutions.
The People's Bank of China issued a statement on Friday that halted virtual credit card products and face-to-face payment services, including QR code payments, ruling that this line of business was too risky.
According to the statement, both forms of mobile finance have gone beyond the traditional business models of point-of-sale machines and credit cards, which may have potential security loopholes.
In an additional blow, the directive also banned financial institutions from setting up accounts on third-party payment platforms, including Alipay and Tenpay, the payment arms of Internet giants Alibaba Group Holding Ltd and Tencent Holdings Ltd.
Feng Xinya from the payment and settlement department of the People's Bank of China told China Daily on Friday the central bank issued an official document on Thursday to its branches that are responsible for regulating financial services provided by Alibaba and Tencent.
"We asked the relevant online payment service providers to submit documents analyzing the security of their virtual credit card and QR code payment services. Then we will undertake a security risk assessment. During the process, we told the relevant companies to stop providing such services temporarily," Feng said.