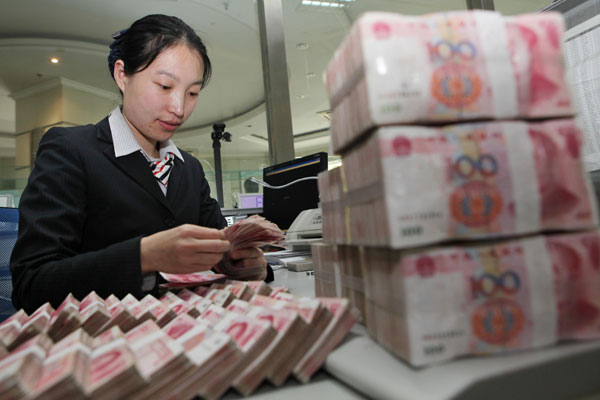 Renminbi currency futures witnessed a record high of 1,461 contracts ($146.1 million notional)in February, up 500 percent from the average daily volume in 2012. Si Wei / for China Daily 
Investors seek out more hedging in futures market, says dealers
The recent tumble in the yuan exchange rate has increased risks in money trading and triggered more hedging from investors in the currency futures market, economists and foreign exchange dealers in Hong Kong said.
The yuan slipped 0.03 percent to close at 6.1402 per dollar in Shanghai, according to China Foreign Exchange Trade System prices. The currency has fallen 0.4 percent in three days and 1.4 percent this year. The People's Bank of China on Tuesday cut the daily reference rate by 0.02 percent to 6.1327, the lowest level since Dec 3.
Renminbi currency futures witnessed a record high of 1,461 contracts (US$146.1 million notional) in February, up 500 percent from the average daily volume in 2012, according to Hong Kong Exchanges and Clearing Limited (HKEx), signaling a greater need for foreign exchange and interest rate risk management.
Kelvin Lau, senior economist at Standard Chartered Bank, said the currency will maintain a trend for medium-term appreciation, supported by China's good economic fundamentals. But, with greater volatility, there will be more demand for renminbi hedging products.
He added that the occasional swings in the renminbi exchange rate against the US dollar and other major currencies is good for Hong Kong's yuan business.
"There are enough varieties of renminbi hedging products in Hong Kong right now. What we always lack is demand," said Lau.
He gave a year-end estimation of 5.92 for the value of onshore yuan against the US dollar, and 5.91 for offshore.
Standard Chartered forecasts the fluctuation band will be further widened by 0.5 of a percentage point to both band limits in the second quarter. A second phase widening will take place at the year's end, taking the band to 2 percent.