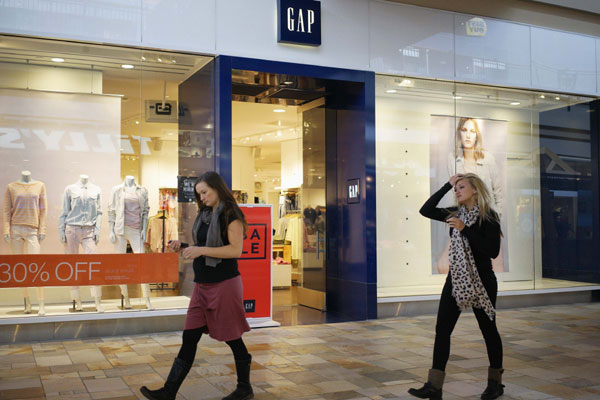 Passers-by walk next to a Gap store in Broomfield, Colorado, the United States, February 27, 2014. [Photo/Agencies]
When Gap Inc began an online campaign ahead of launching its Old Navy label in China, the iconic US clothes retailer posed an important question to its potential Chinese consumers: have you heard of Old Navy? Only a few had.
Brand awareness is one of the uphill battles Gap faces in China as the US firm looks to increase its stake in the world's second largest clothing market, where it lags rivals H&M, Japan's Uniqlo, owned by Fast Retailing Co Ltd and Inditex SA's Zara.
Gap, which launched its first Old Navy store in Shanghai on Saturday, plans to open five stores of the value-end chain this year as well as adding 30 Gap stores to its current 81, Gap's Greater China president Jeff Kirwan told R
eu
ters on Saturday.
"Outside North America this is the largest opportunity for us, acknowledged by all the senior leadership in the company. This is the number one growth vehicle for the company," Kirwan said in an interview at Gap's Shanghai office.
A bastion of the clothing sector in the United States, where it has around four percent of the apparel market, Gap entered China behind its rivals, setting up its first own-brand shop in 2010. It now has around 80 stores, around half the number of rivals H&M, Inditex-owned Zara and Uniqlo.
"I hadn't heard of Old Navy before. I was just passing by and saw something going on. It was my sister who told me it was part of Gap," said Ji Yin, 30, queuing for the flagship store's launch in Shanghai's up-market Jing'an district.
Gap's China team plans to invest in promoting brand awareness with local shoppers, especially online, to play into the rapid growth of China's e-commerce sector, a segment of the retail market that is unusually large.
"We're putting a lot of attention into e-commerce for both brands," Kirwan said.
They might need it. Gap's account on popular Sina Weibo, China's equivalent of Twitter, has just 86,000 followers, a figure dwarfed by Uniqlo's 3.6 million Weibo fans. Old Navy, which joined Weibo in January, has just 3,700 followers so far.
"If you can get a social media buzz in China it goes fast and wide, because Chinese people are very well connected. Without one, it's difficult for a consumer brand in China. It's almost a must I would say," said Nick Debnam, Asia Pacific chairman for consumer markets at KPMG.