Lenders look to Tencent's WeChat app to cut customer service costs
Analysts, consumers concerned over information security issues
China Merchants Bank Co Ltd launched a WeChat service for credit card accounts at the end of April, which has sparked widespread discussion about the pros and cons of such services.
The services the bank provides through Tencent's WeChat application currently cover account queries, such as balance requests, but more services, including bill payments and sales of wealth management products, may be launched by the end of this year.
"Customer services delivered through WeChat cannot fully replace traditional customer service and other services provided at counters in bank branches at the moment, and currently the number of card holders using the WeChat service is limited, but we see fast growth," said a source with China Merchants Bank.
The source declined to reveal the number of people using the service at present, and how much the bank expects to save by adopting WeChat notifications, saying it may take some years to fully develop the service.
"WeChat messages will replace traditional text messages, which have been widely used among lenders to send account information to bank card holders, because WeChat messages are more advanced as they can also include images and sound, as well as text. But their big attraction is they are free," said Xiong Liang, the operations department manager with a Shanghai-based commercial bank.
For lenders facing narrowing profit margins due to increasingly liberalized interest rates, finding ways to cut their operating costs is a key concern for decision-makers.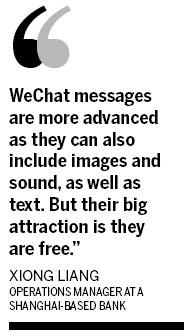 Hou Lijun, the operations manager with a Beijing-based commercial bank, said by using free message notifications banks potentially save millions of yuan a year if all messages are sent through free-of-charge platforms such as WeChat.
But although sending messages concerning credit card accounts using the service may significantly reduce the banks' costs, there are concerns about security.
"It is essential to make sure that the application is isolated and doesn't share information with any other application that is installed on the same smartphone," said Kuang Jian, an analyst with Sanli Info Consultancy, a Shanghai-based information technology service provider.
Protecting account information is the greatest concern for lenders when using such phone applications.
Shi Lei, a wealth manager at a China Merchants Bank branch in Shanghai, said customers' credit card information is stored in the bank's internal system and is not exposed to any phone applications.
But not everyone is convinced.
"Online banking remains my first choice for checking my account information because it is safe and comprehensive," said Zhang Yuting, 28-year-old user of both China Merchants Bank credit card and WeChat.
Tencent, developer of the WeChat app, declined to comment on enterprises' using the application as a customer services platform.
Wang Xiaotian and Gao Yuan in Beijing contributed to this story.