Ministry backs out of talks about WeChat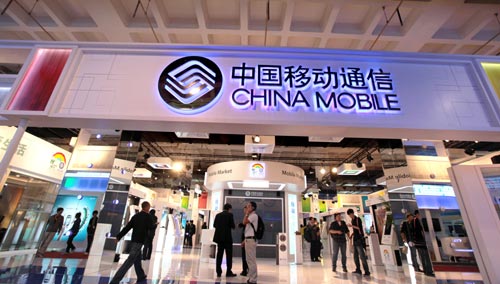 China Mobile Ltd's stand at a telecom exhibition in Beijing. The company's most recent quarterly profit growth is stagnant for the first time in three years. [Da Wei / For China Daily]
The Ministry of Industry and Information Technology said on Tuesday it will not be involved in telecom operators' deliberations over charging for Tencent Holdings Ltd's WeChat mobile mess
aging
application.
The remarks from Zhang Feng, head of the ministry's communications development department, marked a major reversal from the ministry's previous stance of trying to "coordinate" the two parties, analysts said.
Zhang said the decision to charge for Internet and mobile Internet businesses is a market-driven practice, one in which the government does not take sides.
"Since the introduction of WeChat in 2011, the government has not interfered with such services and will uphold this principle," he said.
Zhang said the ministry welcomes and supports the earlier announcement made by Tencent that users will not be charged for its WeChat service.
He added that the ministry supports cooperation between telecom carriers and Internet companies, and will strengthen its supervision of the telecom industry to avoid ill-intentioned competition.
Jiang Jialin, a senior analyst with IT consultancy IDC, attributed the "change of attitude" to mounting public pressure.
"I believe the government does not want to impose policy restrictions on the matter and wishes to rely on the market. Yet it is still undecided whether similar applications will need to be charged," he said.