Riding the wave of consumption-led growth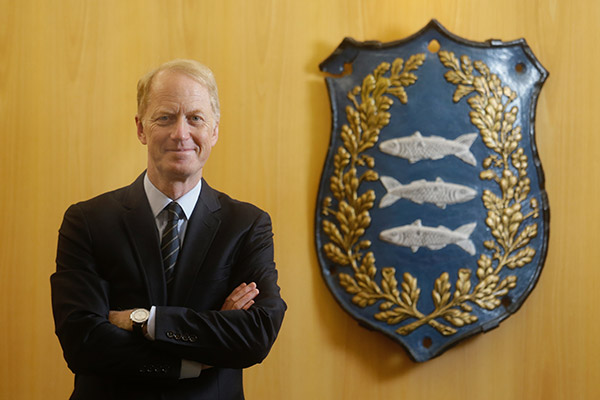 Helmuth Hennig, managing director of Jebsen Group. [Photo provided to China Daily]
Conglomerate with over a century's presence in China sees a new round of opportunities thanks to the country's initiatives
Jebsen Group-a conglomerate with a rich business portfolio ranging from beer to car components-believes the Chinese government's initiatives in boosting the consumption-led and services-led economy, as well as the urbanization and growth of the middle class, are giving it real growth opportunities.
A private marketing and distribution company established in 1895 with more than 120 years of continuous presence in China, these days Jebsen represents more than 200 leading brands across various industries. The group employs more than 2,300 people and is headquartered in Hong Kong, with nine additional offices in the Chinese mainland, Taiwan and Macao.
In 2015, the conglomerate reorganized and optimized its business structure. Under the unified master brand of Jebsen, the group has four strategic business units including Jebsen Consumer, Jebsen Beverage, Jebsen Industrial and Jebsen Motors.
The strategy shift appears to have paid off, with the group last year posting revenues of HK$13.3 billion ($1.71 billion) and net taxed profit up 5 percent from a year ago. The group's revenue has already tripled over the last 10 years.
Group Managing Director Helmuth Hennig shared his perspectives on how Jebsen Group could drive further business growth amid the slowing down of the Chinese economy. The following are edited excerpts of an interview with Hennig:
How can China's economic changes, from being investment and infrastructure-led to being consumption and services-oriented, create business opportunities?
Although Chinese economic growth is slowing, it is still at a reasonably high level and China's GDP growth in 2016 reached 6.7 percent. If you look at the upper segment of the middle class in China, this segment of the population is actually growing and has higher disposable incomes. They still have the desire to spend money.
How will the business units of Jebsen Group respond to the new business environment?
We strive to offer quality brands that can add to the lifestyle of the middle class. We offer upper premium products targeting the middle class, and these products are not mass produced or mainstream consumer products. Even though the market itself may not grow quickly at the end of the day, if you look at specific market segments that we are in, we still have significant growth.
Urbanization, aging population and the rise of middle class: how do these phenomena positively contribute to the group's business?
All these allow us to be confident that our consumer business will grow quite significantly over the next few years. Retail sales in China are slowing, but in major Tier 1 and Tier 2 cities, people want to buy quality products rather than products in large quantity.
Chinese consumers have much more understanding of brands because of the information flow from the internet. They are very willing to look through the internet to search for products. We have built our own platforms in both Hong Kong and the Chinese mainland. In the mainland we also partner with other platforms, such as Tmall, to offer high quality electronic and lifestyle products.
More Chinese nationals are traveling overseas and they look at brands from a Chinese as well as a global perspective. This all opens up opportunities for brands that we work with. They are brands imported into China, which we try to establish in the market place.
How can Jebsen Beverage cater to the needs of the Chinese middle class?
In the wine business, we've built up our portfolio of business by focusing on a balance of agency brands and self-owned brands. Wines sell very well in the Chinese market and we work with the brands to sell their products in the country.
We've also developed Jebsen Wine Estates, to produce our own product ranges, after acquiring wineries in Australia, New Zealand, South Africa and South America. We've created more direct interaction with customers and inform them through our wine product catalogue.
On the beer product side, we have our self-owned brands such as Blue Girl Beer and Sonderberg Beer. We are looking to expand Blue Girl premium beer in the southern Chinese market and have maintained sustainable growth there over the past three years, whereas Blue Girl Beer has entered its tenth year as the number one beer brand in Hong Kong by volume and value. While we take a regional perspective for our beer business, we've adopted a national approach to promote our wine business.
How can Jebsen Consumer leverage its multibrand network?
Our focus in the consumer business is on high-priced, small domestic electrical appliances. For example, we built up around 200 points of sale for Dyson in the country's first- and second-tier cities by the end of 2016.
Our objective is to utilize the uniqueness of the Dyson brand by giving consumers retail experiences that they've never seen before.
Though having a portfolio with an array of consumer products, the key is not about cross-selling, but utilizing the uniqueness of the products and enriching peoples' lives.
What is the strategic plan for Jebsen Motors over the next five years?
We entered a dealership agreement with premium car brand Porsche for the Chinese market in 2001 and we sold 9,593 Porsches in 2016. We have built our Porsche service center clusters in the eastern and southern regions, to expand the car dealer business in defined areas of China-rather than throughout the entire country.
How has Jebsen Industrial positioned itself on "intelligent manufacturing", which is trending in China?
The future of the industrial sector in China is to take the labor-intensive work out of the equation, to improve production reliability and quality. Moving forward, it is about replacing people with automation. Software and robotics are the direction.
China has made some major investments in robotics companies, but acquiring these companies does not solve everything. We are looking at opportunities to get into this market place as well.
We have set up three to four joint venture companies and factories in Dalian to produce car components that will be resold to car brands or first-tier component suppliers.
In this way, we are adopting the production model and not the sales model to capture enormous market opportunities in this sector.
What is your business philosophy?
We are a private company, so we can take a longer view to develop businesses because we don't need to report to analysts or shareholders every three months. It's been the recipe for our success over the years.
Though taking a long-term view, we also narrow the focus of our business. To be too broadly-based is just not viable, given the size of the Chinese market.
We take decisions to decide whether we keep those industries or not. We must be top of the class in each of the industries where we are operating.
What are the challenges in China?
To develop in the Chinese market involves a much higher level of complexity, because different markets exist within China with different spending patterns.
The regulatory environment in the country is also very different and we need to understand what we can do and what we cannot do.
What suggestions would you give to ambitious young people?
Young people should be looking beyond the borders of China, although of course there are many opportunities in China. If they have language skills, such as speaking foreign languages, there will be huge opportunities for them because many companies are expanding overseas from China and international companies also want to develop businesses in China.
What is your recipe for business success?
Professionalism, understanding your market, and focusing on the areas we want to develop the most.
Believe in yourself and try to find a passion. It is much easier when you find something that you believe in and a role that really interests you. If you can do that, you will have a better chance of success in life. 
CV
Age:
Career:
2000 onwards: Jebsen: Group Managing Director
1997: Jebsen: Group Deputy Managing Director
1994: Jebsen: Board Director
1990: Jebsen: General Manager-Corporate Development
1983: Jebsen: Shipping Division's Assistant Division Manager
Education:
1987: University of Illinois, United States
1977: Formal education, Denmark
Family: married with three children