HSBC forecasts brighter year in China
HSBC Holdings Plc sees an even brighter year in China, adding that a hard-landing scenario was erased by the strong bottoming-out of the economy late last year.
"Our outlook (for China) in 2013 is bright," said Chief Executive Stuart Gulliver in a conference call on Monday after the bank reported a 6 percent year-on-year drop in group pretax earnings to $20.6 billion.
"Our core business will continue to benefit from the recovering economic growth" in the Chinese mainland and its positive impact on other faster-growing regions, he said.
Gulliver forecast 8.6 percent economic growth in China in 2013, compared with 1 percent growth in developed economies. The Chinese economy grew 7.8 percent in 2012.
The Asia Pacific region, excluding Hong Kong, contributed 50.6 percent of HSBC's total profit in 2012, up from 34.2 percent in 2011.
The increased profit generated in Asia was offset by a $3.4 billion loss in Europe, especially in the United Kingdom. The bank declined to provide detailed figures for China, but said that growth was strong.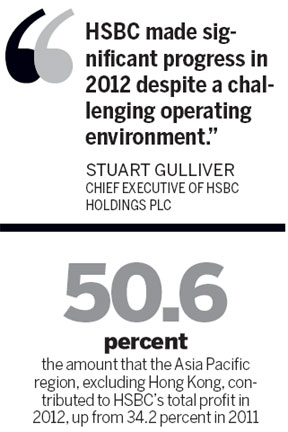 The bank's profit in 2012 was hurt by legal problems in the United States and in the UK, where the bank has set aside a total provision of more than $5 billion to cover regulatory fines over allegations that it helped Mexican and Colombian drug cartels launder money, and of irregularities in the sale of interest rate swaps to small businesses.
HSBC's underlying profits - ignoring one-time accounting effects such as a $5.2 billion fair value change of its debt - rose 18 percent. The regulatory fines, however, are not excluded. Underlying revenue was up 7 percent, led by growth in global banking and markets and commercial banking.
Gulliver said the strong growth in underlying profits gives a better reflection of the bank's rising profitability.
"HSBC made significant progress in 2012 despite a challenging operating environment", he said.
On Monday, HSBC shares dropped 1.23 percent at the close in Hong Kong and were down 2.80 percent at 11:00 am in London. Gulliver described the drops as "profit-taking" by investors on a stock that has rallied substantially over the past year.
The bank plans to pay total dividends of $8.3 billion or $0.45 per share, up 10 percent year-on-year.
In China, strong results from HSBC's partners - Bank of Communications Co Ltd and Industrial Bank Co - contributed to its profits. That was partly offset by losses in its share sale in Ping An Insurance (Group) Co. Last month, HSBC sold its stake in the Shenzhen-based Ping An for about $9.4 billion, as part of its plan to streamline its operations. Gulliver has closed or sold a total of 47 businesses worldwide since he took over the top job in 2011.
HSBC also said it will continue to boost the number of its China desks this year, which are manned by Mandarin-speaking bankers to support the global expansion of Chinese companies'. HSBC has China desks in most of the world's major markets.
gaochangxin@chinadaily.com.cn