People traveling between the two countries to reach 5m by 2015
Gray power is on the rise in the tourism market as China's senior citizens are increasingly visiting Russia.
Retirees from other Asian countries, especially Japan, have long been a major source of outbound and domestic travel, but senior tourists from China have lagged behind because of their relatively weaker spending power.
Russia, however, is one exception for the elderly in China.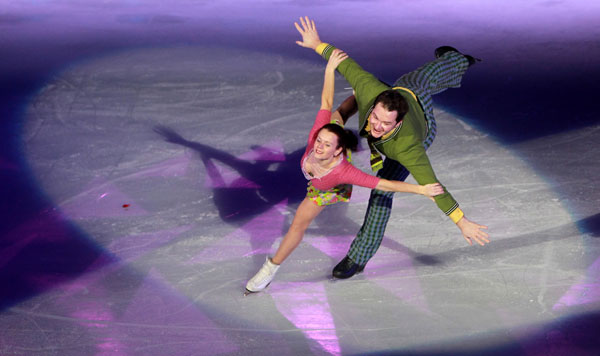 Two Russian artists perform ice dancing at the closing ceremony of the 2012 Sino-Russia Tourism Year in Shanghai. The two countries have organized more than 200 activities, which significantly boosted tourism between the two sides. Pei Xin / Xinhua 
"About 70 to 80 percent of the people on our tour groups heading to Russia are over 50," said Dong Liang, a spokesman for China Youth Travel Service.
Tian Xin, a tour guide with the Shanghai-based Donghu International Travel Agency who's in charge of Russia, described a 50-some traveler on a recent tour group as the "youngest tourist".
"Russia had a greater influence on middle-aged and older tourists because they grew up at a time when China and the former Soviet Union were in a friendly alliance. As for the young people, they'd easily pick Paris over Moscow if they had the choice," said Tian.
Nostalgia — as well as the country's rich history and culture — makes Russia the country's main tourism market in China for those over 40, said Jiang Yiyi from the China Tourism Academy.
"The younger generation values service and efficiency more. It takes at least two to three hours, but it can even be eight hours, to go through the border inspections in Russia for example," said Jiang.
She added that it only takes one-sixth of the time to do the same in China.
"The fact that the tourism organizations of countries such as Singapore, Malaysia and the Republic of Korea came to China more often than Russia to promote their tourism products also makes Russia less popular among young people," she said.
But for people like 54-year-old Shanghai resident Shi Bin — who doesn't mind spending a couple of extra hours at the border of a country that reminds him of the glory of the former Soviet empire — his traveling experience was exactly what he wanted.
"I used to read military magazines showing pictures of naval ships and aircraft used by the former Soviet Union. Russia is a big part of my memories," said the military-equipment and weapons enthusiast.
Shi took his family of three to Russia in June and spent about 30,000 yuan ($4,808) for the seven-day trip.
"Many senior tourists also ask to visit the Volga River, which is why we're considering adding it to the list of Russian tourist destinations starting from next year," said Dong.
To encourage travel and investment between the two countries, China and Russia are celebrating the Year of Russian Tourism in China in 2012, and will celebrate the Year of Chinese Tourism in Russia in 2013.
One goal of the initiative is to bring the number of tourists traveling between the two countries to 5 million by 2015 from 3.3 million currently.
More than 809,600 Chinese tourists visited Russia last year, according to data provided by the China Tourism Academy. China ranked second in terms of the tourists' country of origin.
"More than 870,000 Chinese people will visit Russia in 2012, which means that we're expecting a 7 percent increase this year," said Wang Zhifa, deputy director of the National Tourism Administration.
His expectations are based on the fact that more than 702,400 Chinese tourists visited Russia during the first three quarters of the year.
Meanwhile, about 2.5 million Russian tourists visited China in 2011, meaning that the third-largest number of tourists to China that year came from Russia.
"Only 100,000 tourists traveled between China and Russia in the 1990s but this figure is now an impressive 3.3 million," said Wang.
And even if senior citizens are the backbone of Russia's Chinese tourism market, Yu Ningning, president of the China International Travel Service, said that Chinese tourists over 60 only accounted for 20 percent of total departures, and this figure is usually between 50 to 60 percent internationally.
"The market is severely underdeveloped at present," Yu said.
Contact the writer at shiyingying@chinadaily.com.cn