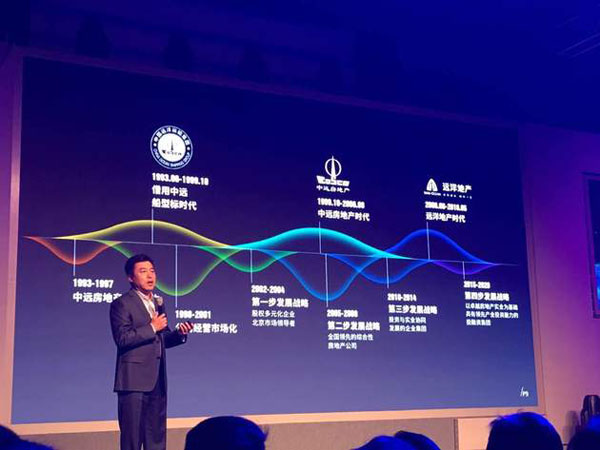 Li Ming, chairman of Sino-Ocean Group, speaks at a press release in Beijing,June 16, 2016. [chinadaily.com.cn]
Sino-Ocean Group, a Hong Kong-listed property developer, says its sales will grow by tens of billions of yuan each year, thanks largely to its real estate business.
The company's chairman Li Ming made the forecast on Thursday, when the company was rebranded from "Sino-Ocean Land Holdings Ltd", to better reflect the group's growingly diverse business portfolio.
"We've entered into a new stage to build a diversified business portfolio covering real estate, commerce, real estate finance and services, offering more valued added services to our customers," he said.
Li says the company will focus on real estate funds, stake investment and overseas investment in the real estate finance sector. Last year, the company acquired Rosemont, a US real estate management fund.
Sino-Ocean Group sales hit 40 billion yuan last year and are expected to reach 45 billion yuan this year. According to the company's annual report, the ratio of its real estate development business compared to its overall portfolio has decreased to 60 per cent from 90 per cent.
Founded in 1993, Sino-Ocean Group was listed on the Main Board of the Hong Kong Stock Exchange (stock code: 03377) in 2007 and has become one of the top ten mainland real estate companies listed in Hong Kong.