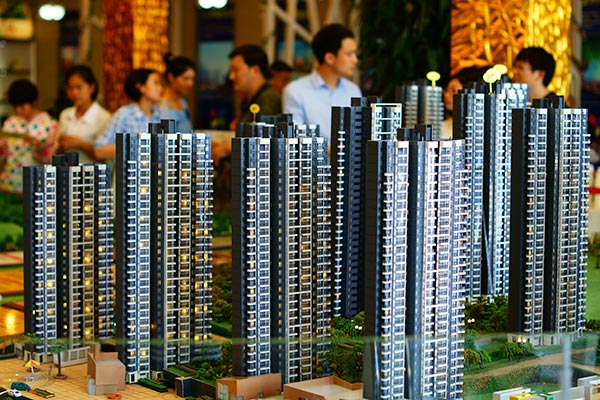 Potential homebuyers examine a property project model in Yichang, Hubei province, June 4, 2016.[Photo/VCG]
After the property market craze took first-tier cities by storm, second-tier cities are now getting hit by the phenomenon - steep housing price hikes and flash buys of new houses and land, CCTV reported Thursday.
A 150-meters-long lines of home buyers, including 2,000 qualified buyers and 20,000 who bet on a chance to buy, crowded buildings for sale in Hefei before 7 am. The developer had to adopt a lottery to allot home purchasing qualifications. Twelve candidates emerged in every lottery round, who would earn one minute to choose a home.
Within two hours, 866 new homes were sold,, yet this scene isn't anything new for cities like Hefei.
Sales representative in Hefei told a reporter that with fewer homes and many buyers, new homes are red hot once they are in the market. The next window for purchase will be in September.
Meanwhile in Nanjing, about 500 buyers are waiting under a large, temporarily-built rain shed waiting to be called so they can claim one of the 250 homes in the city's Jiangbei district. "We did our homework on what kind of apartment we like, now we'll wait to see if we are lucky enough to win the lottery," a home buyer said.
Developers have already assessed how deep the pockets of each investor is before giving out the qualifications for them to enter the lottery, according to the media
In Xiamen, even luxury houses are swept off the shelves like cheap produce. Chen Yuanping, big client manager with Longhu Xiamen Real Estate, said that most high-end clients assume that it's easy to buy a luxury house, until they see that the reality is to wait in line for three hours just for an appointment for qualification assessment.
A home buyer in Xiamen who had been looking at new homes saw prices rise from 20,000 yuan to 32,000 yuan per sq m in six months. "I didn't take the opportunity back then, and I need to take action now, even if it's expensive," the home buyer said. "Better to buy now than wait for another year when the price rises to 50,000 (per sq m)."