Beijing has thrown open its cultural and creative sectors to attract Hong Kong investors for the first time amid efforts to restructure the capital's economic growth model.
"The government has been optimizing its industrial structure and promoting emerging industries, including cultural and creative industries as key industries in the district," said Wu Guiying, acting mayor of Chaoyang district, in an interview on Monday.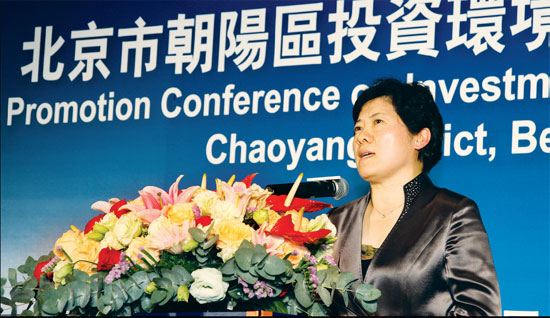 Wu Guiying, acting mayor of Chaoyang district, briefs participants on the district's development strategies. [Photo / China Daily] 
Hong Kong Chief Executive Leung Chun-ying said in his opening speech at the 16th Beijing Hong Kong Economic Cooperation Symposium that Hong Kong's unique culture of "East meets West" will lay down a good foundation for the capital's development of cultural and creative industries.
On Monday, nine Beijing companies signed contracts with their Hong Kong partners on cultural and creative projects with agreed investment reaching 2.22 billion yuan ($355.62 million). The investments cover TV copyright trade and construction of cultural parks. The value of the projects, expected to be signed on Tuesday, will stand at 11.5 billion yuan, according to a press statement.
Beijing also launched an investment directory in the city's cultural and creative industries on Monday. A total of 62 projects in the city will need investment of about 70 billion yuan.
Supportive policies have already been rolled out to invite Hong Kong investment into cultural and creative industries in Chaoyang district. Hong Kong enterprises which invest in these sectors are entitled to apply for support funds while listed enterprises will enjoy funding of up to 4 million yuan. Important talents used by these enterprises will enjoy priority in residence, children education and medical services.
The government of Chaoyang district allocated about 1 billion yuan financial fund to support more than 300 key projects in cultural and creative industry over the past four years, attracting more than 20 billion yuan investment, Wu said.
Wang Anshun, the acting mayor of Beijing, said on Monday that Beijing will regularly publish projects in the services sector, including tourism and logistics, to enable Hong Kong investors to have closer cooperation between the two cities.
Chaoyang district launched 10 industrial base projects to attract Hong Kong investors during a promotion seminar on Monday. The cultural and creative industries accounted for half of the projects, including the CBD-Dingfuzhuang International Media Corridor and an international commerce center in Dongba, which are expected to attract a total investment of 50 billion yuan, according to Wu.
The capital's Huairou district launched the Producer Headquarters Base project - which will become the central area of Beijing's film and cultural industry by 2020 - to woo Hong Kong investors. Meanwhile, Xicheng district launched an 8.07-square kilometer performance project, the Tianqiao Performance Center, in the downtown area to attract a total of 15 billion yuan ($2.4 billion) investment, according to a news release from the symposium.
The emerging cultural and creative industry created 199 billion yuan added value for Beijing in 2011, up 17.2 percent year-on-year. And its contribution to the city's GDP growth increased to 12 percent in 2011 from 9.7 percent in 2005. It also created a total of 1.4 million job positions in 2011, according to statistics from the municipal government.
"However, the emerging industry also faces many challenges, including difficulties in financing," said Liang Changxin, vice-mayor of Xicheng district.
lijiabao@chinadailyhk.com