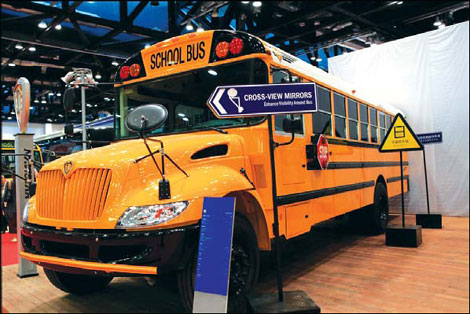 US school buses have set the standard as student transport safety concerns rise in China. Provided to China Daily
While commercial vehicle sales have been stagnant in China this year, one segment is viewed with considerable potential by both foreign and domestic carmakers - the largely untapped school bus market.
Annual school bus sales in the country in the next three to five years will probably reach 35,000 to 50,000 units, said Lu Xin, general manager for business development, planning and communications at the China operation of US commercial vehicle maker Navistar Inc, whose wholly owned affiliate IC Bus is the biggest school bus manufacturer in North America.
The market might later grow to between 70,000 and 100,000 units a year if the government and society continue to invest in school buses and improve corresponding regulations and management, Lu said.
He said that the company expects to launch its first product jointly developed with domestic automaker JAC Motors "as soon as possible", but declined to give a timeline.
In April, Navistar signed non-binding letters of intent with Anhui-based JAC to jointly develop, manufacture and sell school buses in China. The project is progressing as planned, Lu said, adding that the company is considering import of school buses to meet market demand.
The second-biggest US school bus maker Blue Bird Corp is also eyeing on the market.
"We have to move quickly (to tap the fledging market)," the company's vice-president for product strategy and program management Dean Coulson said.
He noted that Blue Bird is now in the process of selecting a local partner, a prerequisite for foreign companies to produce vehicles in China.
Previous media reports cited a survey last year saying that China has about 280,000 vehicles on the roads for student transportation, yet only one-tenth are actual school buses and many are often overloaded.
The problem caught the public's attention last year after a fatal accident in Gansu province claimed the lives of 19 preschoolers. They were riding in a nine-seat minivan that was carrying 64 passengers when it crashed into a heavy-duty truck.
In April a new regulation on school bus safety came into force stipulating that buses carrying students should be given priority in traffic, while companies and drivers need licenses to offer school transport services.
With the government and society paying more attention to safety, the demand for purposed-built school buses will increase rapidly, analysts said.
According to market data, more than 8,000 school buses were sold in China in the first fourth months of this year.
Zhengzhou Yutong Bus Co Ltd, the biggest school bus manufacturer in China, aims to sell 10,000 vehicles in 2012. It sold about 1,850 school buses in the first two months this year, more than its full-year delivery last year.
A report by Dongfang Securities said that the potential demand for school buses in China is around 1 million vehicles, with the total market valued at about 400 billion yuan.
Lu from Navistar said that the US now has about 480,000 school buses on the roads and the figure stays stable as 25,000 to 30,000 replacement buses are sold every year.
China could be the world's biggest school bus market when it is fully developed, Lu said.
hantianyang@chinadaily.com.cn